This is a sponsored post on PCDN

Created by United Nations General Assembly Resolution 35/55 in 1980, the University for Peace has been training leaders for peace for the past four decades. It is a unique international academic institution with over 2,000 Alumni from 120 nations. Located in the province of San Jose, the UPEACE Campus houses a primary forest reserve. UPEACE pursues academic excellence through a systematic and critical analysis of multiple social, legal, and environmental issues affecting global well-being, while its highly qualified Faculty of Resident and Visiting Professors guide their students to formulate and examine strategies and practices that contribute to the processes of conflict transformation, peacekeeping and peacebuilding in various contexts. The unique, empowering, and transformative UPEACE Experience is grounded in academic excellence and the cultivation of critical thinking.
Why study at UPEACE?
Experiential learning
Diverse, multinational and multicultural community
Faculty: Renowned experts and practitioners in their fields of expertise – 19 Resident and more than 50 Visiting Professors from around the globe
Our Campus: 300 hectares of protected tropical forest
Costa Rica: peaceful country that champions human rights, no army since 1948, 90% renewable energy sources, ecotourism, and voted the happiest country on Earth!
Meet and network with high-profile personalities in the fields of peace and conflict, environment and development, international law and diplomacy
Internship Opportunities at UN agencies, renowned international organizations and other UPEACE offices around the world.
What our Alumni have to say about us: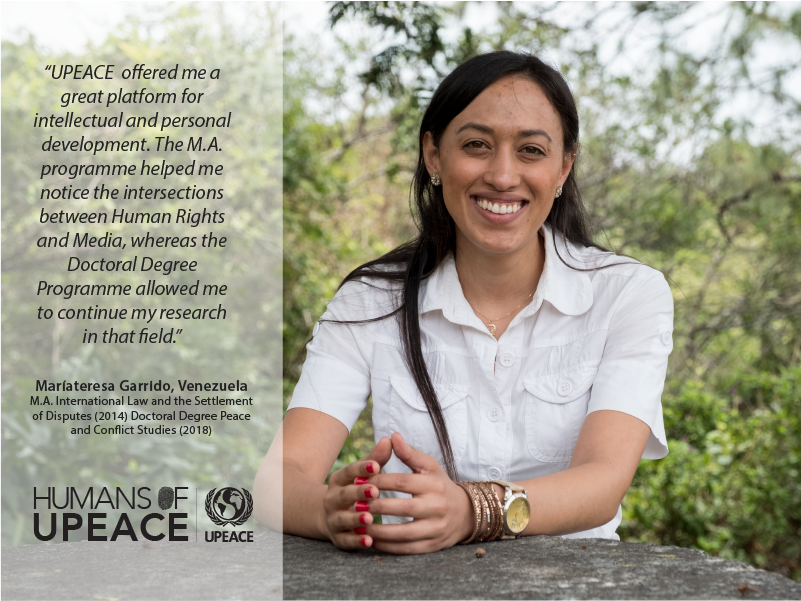 Over the past five years, UPEACE has relied on a mix of Resident and Visiting Faculty members to teach both its face-to-face and online courses. Our corps of Visiting Faculty brings richness of knowledge and experience to the classroom, and affirms the international and multicultural character of the university. Most of our Visiting Faculty members are field practitioners with hands-on, practical experience in UPEACE's areas of expertise. Given the growth of the student body over the past years and the proliferation of other academic activities off-campus, UPEACE has recruited more Resident Faculty members to teach, advise and conduct research.
What our Faculty says about us:
"For me, the University's greatest resources are its students. It is a luxury to work with a group of people who are deeply committed and have a great eagerness to learn."
Watch this video to learn more about this unique institution:
Join the thousands of UPEACERs around the world by becoming a leader for Peace; let UPEACE show you how!
Reach out to us for more information:
Email:              [email protected]
Website:         https://www.upeace.org/
Facebook:        UniversityforPeace
LinkedIn:          University for Peace (UPEACE)
Twitter:           @UPEACE
Instagram:      universityforpeace
YouTube:         University for Peace (UPEACE)