This is the first time in history that a former Farc combatant is elected Mayor of a municipality.
It's Sunday and local elections are happening all over Colombian territory. 2019 has been a very rough year of increased assassination and targeting of social leaders and political candidates. The country is under strict "ley seca" (no alcohol expenditure or consumption), and we wake up to go vote in our precinct. I take my 8-year son  to vote just as my father did to me, back when I was able to dip my finger in pink ink. Why? Because my father taking me to vote instilled in me a fervor for voting and not missing an election. I hope I pass this on to my son as well. Even my foreign-born husband is allowed to vote in this local elections where Mayors, City Council, Governors, and State Assembly members are popularly elected.
You know who else is ready? The traditional political machinery that decade after decade keeps electing those candidates that perpetuate dynasties of power and wealth accumulation. I come home tired and take a nap because there is not much to be done at this point but wait. I wake up with a very hefty number of WhatsUp messages….
The country was almost done counting (it's a very fast and efficient process I must say) and Colombia's three main cities were ALL reporting alternative* candidates, who by the way, ended up officially winning.  In Bogotá, we have our first female and openly lesbian with a (real) PhD Mayor, Claudia López. In Medellín, an electrical engineer with a total independent campaign defeated the biggest machinery of all (of President Alvaro Uribe in his own territory) and in Cali, the alternative candidate won as well. As a national trend, the political force of former two-time president Alvaro Uribe didn't win.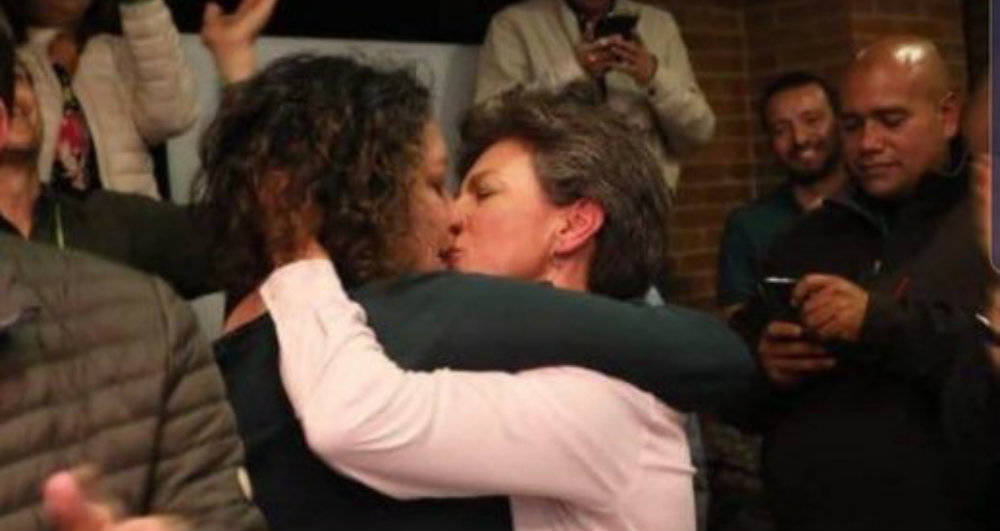 The famous kiss of Bogota's first ever female political candidate, Dr. Claudia Lopez with her wife.
And as incredible as that is, I want to focus on a small but truly incredible victory. Also, defeating the candidate with the machinery support, a former FARC combatant, Julian Conrado, otherwise known as "The Farc musician" was elected with 17,073 votes. ** As a result of the Peace Agreements, FARC was given political representation so that they continue fighting for their principles in the democratic arena. The popular acceptance of FARC as a political party is abysmally low, much lower, I bet to infer, than what I thought FARC initially might have calculated. However, beating a traditional candidate in one of the most important municipalities of Bolívar is clearly a step in the right direction. This, added to the national trend of Colombians voting and electing independent candidates is certainly a breath of fresh democratic air.
This year we had to endure the tragic news of a few FARC dissidents declaring their return to the struggle and their abandonment of the peace. This represents a huge obstacle to the already weakened and almost abandoned implementation of the Peace Accords thanks to the much desired leadership, or lack thereof, of the current administration of the Uribe-backed candidate, President Duque, with historically low approval ratings.
But on October 27, 2019, Colombians spoke against the traditional political machinery that among many other things, have been behind the campaigns to vote NO against the Peace Agreement (2016), NO to the anti-corruption Referendum (2019).   Just for a quick reference, the NO campaigners argued that the Gender Integration aspects of the Colombian Peace Agreement carried the risk of people becoming homosexual.  This #fakenews was happily spread by the Evangelical vote that campaigned fiercely for the NO. And I wish I were making this up. Feel free to fact-check me if you will.
To have the first ever female and openly gay Mayor of a main Latin-American city; and to have popularly elected a former FARC combatant to a municipality, is certainly steps in the right direction, for the democratic game and I venture timidly to say to strengthen our already weakened and almost abandoned implementation of the peace accords. To say this gives me hope is accurate, as I hope it gives hope to the 95% of FARC ex-combatants who valiantly remain committed to peace in spite of unspeakable hardship.
I leave you here with a video of the first Farc ex-combatant who changed his AK-47 for a guitar and now will be the Mayor of Turbaco. In peace.
Written by Dr. Catalina Rojas.  PCDN.global Director of Innovation