This blog is part of PCDNetwork's career in change 2017 series. Click here for information on all the activities, webinars, blogs and ways to participate.
by Teresa Chahine (bio below)
We always tell our students and readers: start with the challenge, not the solution. So let me start out by telling you a little bit about the part of the world I come from, and the challenges we are trying to tackle. The Middle East holds 57.5% of the world's refugees, despite having only 5% of the world's population[i]. In my home country of Lebanon, 1 in every 4 people is a refugee, the highest proportion worldwide. Across the Arab countries, 4.5 million children are out of school. 2 out of every 3 people is under 30, and unemployment for youth is 30%, double the global average. For girls and women, it's closer to 60% in some Arab countries, four times the global average.
Social entrepreneurship – the act of pioneering new methods, processes, products, and services that address social and environmental challenges using effective, sustainable, and potentially scalable or replicable approaches – has been in practice since the beginning of human society. Yet only relatively recently has it become formally viewed by international development practitioners and organizations as a potential pathway or strategy for tackling these challenges. Increasingly over the past decade and especially over the past six years since the Arab spring, the international development community has channeled their attention, programming, and funding towards social entrepreneurs.
This has especially been the case for mobilizing youth and women, not only as two large subsets of the population at risk of marginalization, but also as an investment with a large social return. Every year invested in education leads to a 10% increase in future income, resulting in a higher likelihood of education and health for the future generation[ii]. Girls and women spend 90% of their earned income on their families, resulting in a ripple effect through higher likelihood of spending on education and health[iii]. These priorities rank high on the list of development agencies. International non-governmental organizations (NGOs), international aid agencies, and multilateral institutions are scrambling to invest in innovative initiatives and organizations that aim to unlock the potential of women and youth.
A few trends have emerged in this race for innovation. In examining the investment spend and programming, the large majority is being earmarked for new ideas. Funders, trainers, and consultants are scrambling to set up road shows, pop-up human centered design thinking workshops, idea-stage coaching, and pitch contests. Juries are assembled to assign awards for the most innovative and promising idea, in events and initiatives organized by schools, municipalities, NGOs, incubators, and funds. Cycle after cycle of innovation and entrepreneurship events, contests, and conference is organized. Yet the longitudinal follow up required to ensure the successful implementation of these ideas is missing.
The social entrepreneurs who emerged from the earliest such initiatives, such as the first social entrepreneurship incubator in Lebanon, Nabad (meaning 'Pulse' in Arabic), are now largely left behind struggling to survive and secure growth-stage support. While millions of international development dollars are invested in generating new ideas, social entrepreneurs already working on the ground to create change and showing results are being left behind. If these trends continue, they will be joined by scores of new social entrepreneurs emerging from the latest initiatives, who won their awards and were left to implement their ideas with scarce resources.
More investment is needed to strengthen and scale existing solutions which have stood the test of time and demonstrated an effective, viable theory of change. While it is critical to build a pipeline of social innovators and unlock the potential of change agents not currently engaged in socioeconomic development, we will only reach the long-term outcomes we are working towards if we build on the base of what has already been started, rather than continuously starting from scratch.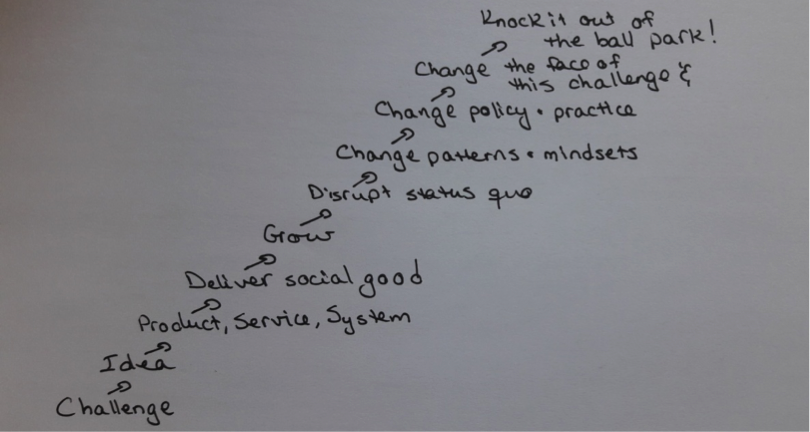 We start with the challenge. We generate solutions, often in the form of new ventures. But we can't stop there. New ventures are impactful, we've seen firsthand how they've transformed communities without access to education, work opportunities, and other basic needs. But if we really want to hack these social challenges that we face, if we want to obliterate them and knock them out of the ball park, we need to keep climbing up the ladder of impact. It can start with an idea. It can start with serving the community. But it takes a whole village – of entrepreneurs, investors, customers, policymakers, and other stakeholders – to build on that first seed of impact and grow it to a place where it makes a dent in this challenge. If we can push ourselves to think cumulatively, to commit long term, to seeing these ideas through, then we'll finally have a chance at knocking these challenges out of the ballpark!
Please visit www.alfanar.org to learn more.
Teresa Chahine is the social entrepreneurship program leader at the Center for Health and the Global Environment, Harvard T.H. Chan School of Public Health. She is the innovation advisor for Alfanar, the first venture philanthropy organization in the Arab region. Dr. Chahine is the author of "Introduction to Social Entrepreneurship," a practical guide for social innovators and entrepreneurs including tools, frameworks, case studies, exercises, and interviews with thought leaders and practitioners. Order your copy at bit.ly/introsocent.
[i] UN Development Programme, Arab Human Development Report 2016: Youth and the Prospects for Human Development in a Changing Reality, 29 November 2016, p 176: http://www.arabstates.undp.org/content/dam/rbas/report/AHDR%20Reports/AHDR%202016/AHDR%20Final%202016/AHDR2016En.pdf

[ii] www.unesco.org/education/ild2014/infographic2014-final.pdf

[iii] womendeliver.org/wp-content/uploads/2016/05/Invest_in_Girls_and_Women_2.pdf