Two weeks ago, PCDN launched the Social Change Career Helping Line, the world's first crowd & expert sourced helpline for careers in change. Over 400 people have joined the group, and we've had an amazing array of questions about the wonders and challenges of advancing a career in change.
Please consider joining us in this journey. Today one of the toughest questions that many people seeking a career of impact face was sent by one of our new members. The question is when is the right-time (if any) to quit one's full-time gig to pursue a social change/impact career. This might be when is the right time to switch jobs, or jump into launching or being part of of a startup or social enterprise.
Below are some thoughts I put together based on some of my own experiences. Look forward to hearing what others have to share.
This is one of the most challenging questions facing many people who want to work for social impact or social change. I've personally encountered this many times and had highs and some lows. I've had full-time stable great jobs that I've chosen voluntarily to leave to pursue more social impact. For example I had a dream job as a professor at Georgetown University for 10 years helping run a graduate program, teaching students, working with partners. It was a great job and I managed PCDN on the side. Over time as PCDN grew I increasingly found I wanted to scale our work. But, this was very hard basically having two full time jobs. Georgetown was great and I likely could've stayed for the rest of my career, but I felt pulled and excited to focus on full-time social entrepreneurship and help PCDN impact many, many thousands more.
Eventually after lots of thinking, soul-searching, talking to my family & others, looking at budgets and sleepless nights, I decided to make the jump. This was not an easy decision at all to take this huge risk. It can be the subject of a much, much longer discussion. In fact a number of people thought I was a bit crazy to take this risk, while others were very supportive.  I do want to provide a bit more thinking about how I decided to make this jump. I spent a lot of time talking to my wife in particular and colleagues to get their thoughts. My wife and I agreed that we would make this decision together as we needed to be on the same page. I spent a lot of time thinking (often too much) about the pros/cons whether to stay or not (both forecasting the potential growth of PCDN as well as the potential challenges). I looked at finances/budgets and forecast different outcomes of what could happen (which was essential). I had a number of sleepless nights (which isn't fun). I weighed my passion for PCDN and social enterprise and how much of impact we've had to date on our members' lives (based on in-person feedback I've had form thousands of people as well as online feedback) and while as a professor I was able to reach many people, the overall impact of PCDN was much greater. I thought I only live once and what would I say to myself in 10 or 20 years if I stayed in my safe job or made the jump. I also wanted to  learn as much as possible about startup/social enterprise and seeking to grow a business with a social impact focus and excited about the intensive learning.
One other thing that did help me decide was coming up with a ranking system for all the things that are important such as adventure, flexibility, impact, family, etc. I used a great app called Best Decision which allows users to create and rank criteria, and explore multiple outcomes. Here are a few screen shots from part of my decision making process: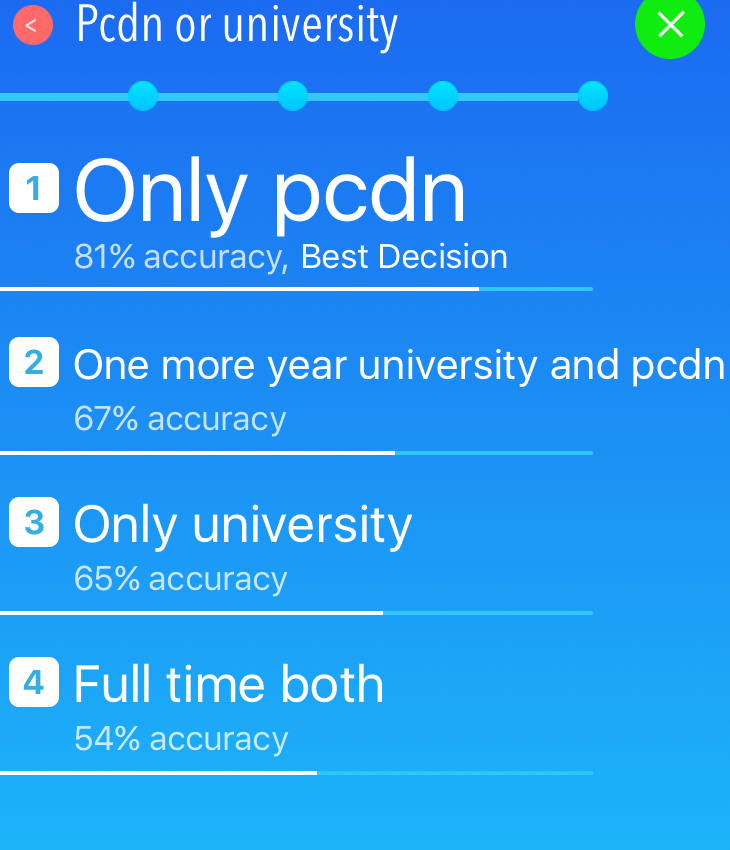 It has been a year since leaving my full time job (I do continue to teach a wonderful one credit, one weekend social entrepreneurship class at Georgetown) and overall having a blast, loving the independence, ability to positively impact thousands, time to innovate and scale PCDN, and learning so much that at times my brain hurts (in a good way). There are also many challenges, such as not having benefits (having to pay our own health insurance which is very, very expensive in the US), still having some sleepless nights about all that has to be done, challenge of sustaining revenue, and much more. I do also miss working with colleagues and peers at Georgetown and the daily interaction with students.

Anyone who is considering making a jump really has to think about a few key things including:
Consider if you can do social impact work in your current organization - Before jumping to something new, explore if you can adjust your current job to one more focused on social impact. Or consider keeping your current job and undertake social change/impact work in your spare time as a volunteer if this isn't possible.
Make sure it is a well-explored decision - I don't recommend jumping without having a good sense there is a solid chance of it working
Doing a thorough market analysis (is there a market, whether for-profit or non-profit ) to sustain one's work or organization 
Ensure you a supportive community PCDN has been fortunate to have many allies and partners. In addition, we are based at

1776

one of the top spaces in the world for startups where there is a great community, workshops and mentoring opportunities and peer to peer learning. I also personally was in a six month Startup Leadership Program DC program for six months last year which taught me so much. Find a local community at coworking hubs, with peers in your sector, with family but don't do this alone.

Ensure you have the emotional intelligence to deal with the many challenges - building a social enterprise or any nonprofit or business can be very, very challenging. There are sleepless nights, stress over finances, tight deadlines and balancing many competing demands. Make sure not to have an overly ideal picture of how wonderful things will be (although there are many wonderful things).
Try to have a backup financial reserves to give you some flexibility - many financial planners recommend having six months of savings of what your monthly costs are as a reserve.

Know when to ask for help - We've had many questions and challenges to date and knowing when and who to ask for help has been essential. 
There are many other recommendations for others who are considering a jump. I should say I've had many other experiences that can be the subject of another post. Including helping co-found a great nonprofit that was my sole income source (sometimes as a consultant and other times as an employee) for seven years. However my last year at the organization was more than full-time work for not great pay and no benefits.
Please share your wisdom, frustrations and own questions here or better yet in the Social Change Career Helping Line.