A brand new planner open next to me, music enveloping the air and a lot of fairy lights strewn around me—I was ready to tackle this head-on. Nibbling on a piece of chocolate, I opened my laptop and typed out 'Best universities to pursue Masters in Development Studies'. That was the last time I remember feeling calm. It has been eight months since then and the title aptly sums up the rollercoaster ride of admissions.
Before I try my best to answer a few questions I received and narrate my experience, I feel obligated to put on a mechanical voice and list a few disclaimers. I am not an expert on the admission process and I have only done this cycle twice (once for undergraduate   and now, for postgraduate admissions). All the views here are subjective and are lessons I learned during the whole activity. If you were expecting a guide to ace admissions, I am afraid you will be disappointed (just like my grandmother when she discovered my cooking skills). This is only a story of a girl trying to figure her way around this hurdle with the help of Google, kind superhumans and a lot of chocolates. If anyone is at the starting of this race, I hope you feel a little less stressed after reading this. That is my only objective with this.

To give you a little background, I hail from the beautiful coastal town of Mangalore in India. I am currently finishing my Bachelor of Commerce (Honours) at Shri Ram College of Commerce, Delhi University. When I was eleven, my school had a program where we could sign up to teach dance at an orphanage. I volunteered out of my love for dance, unaware that I was about to discover my passion. As I gingerly stepped in to the orphanage, the plight of children my age living with inadequate food, housing and clothes shook me. The paradoxes of India's development was shocking and made me feel responsible for being fortunate. In hindsight, that encounter was profound enough to inspire my further ventures in the field of social work. I volunteered at two NGOs for around seven years, where I took up several positions including presidentship. Working extensively at the grassroots made me inquisitive about the larger picture. This led me to undertake several internships at policymaking institutions. My first stint with the Union Minister of State for Law & Justice focused on legal aid, while my internship with the Karnataka Minister for IT and Tourism explored the role public-private partnerships play in fostering development. In my current project at the Ministry of Social Justice and Empowerment, I am helping to develop an employment scheme for differently-abled people. These are my first few adventures in the world of social work. The more I delved in, the more I became sure about my commitment to turn an ideal world into a growing reality. All these pursuits culminated in my applications for development studies. Now that I have given you a peek into my life, it is time to turn the spotlight on the more important person in this conversation of sorts–you and the important endeavour you are about to embark on.
First things first, organize yourself. Being obsessed with stationary, this was just an excuse to buy new planners and diaries. During the peak of the cycle, I had post-its on my wall, sticky notes on my phones, a huge whiteboard I scribbled on and three different pocket-sized notebooks with deadlines. While you needn't necessarily go all out guns blazing (though I assure you, it was fun), it is imperative to have a structure. Write out your deadlines, be clear about the things you need to do and have a schedule for it. The general timeline I followed was:
June and July – Research and finalize on courses and colleges.
August – Work on first drafts of statements and start the (long) process of collecting recommendation letters, transcripts and other necessary documents.

September, October and November – Write, rewrite, check, recheck, proofread and submit applications.
December – Ideally, if you submit your applications early, you should receive your decisions by now.
January, February and March – Scholarships.
Let us start at the beginning. How do we go about shortlisting colleges?
I believe this is a subjective question. Each person's criteria and reasons differ from one another. Formulate your selection criteria. There is a huge array of factors: brand name, faculty, research facilities, practical skills, duration of the course, country's immigration policies, placements, scholarships, and rankings. I started by shortlisting the top-ranked universities (QS rankings, Times Higher Education rankings). Remember to check their overall ranking and the course/department specific ranking. After this, decide on the countries (I kept in mind scholarships, employment opportunities and  visa) to narrow down the list. Finally, go to the college websites for the faculty, course structure, internship opportunities and speak to a few students from the university before finalizing your ultimate list. My list comprised of LSE, UCL, Sussex, Edinburgh, SciencesPo and Warwick. SciencesPo was my first preference since I found their courses and faculty more aligned to my areas of interest. More importantly, I am keen to try my hand at working abroad and hence, visa extensions and job opportunities seemed better in France than UK in the face of Brexit. Researching on employment opportunities can be quite a challenge. I was trying to put together a PowerPoint presentation to convince my father that SciencesPo would be the ideal place to study and clinching the job prospects argument was critical to emerge victorious. I found the annual placement reports of each university which is generally available on their respective websites and also, checked out the company listings on their career support pages. I supplemented this with a lot of FaceBook networking through which I found students who had graduated and asked them about their job searches, if the university played any role in it and collected their opinions on UK v.s France in scope. Speaking to people from all across the globe (though keep in mind your nationality will matter for visa), and of different age groups gave me a comprehensive picture to ultimately win over my father's approval. The research you do at this stage is crucial and will form the foundation for your choices later. Hence, make sure you give it sufficient time.
If you have done your research thoroughly, the application stage should get easier. An advice I received was to be very specific to the college while drafting your personal statements. The format I followed began with a short anecdote/ quote. This paragraph is generally considered the most important. These six-eight lines set the tone for the rest of the statement and need to really have an impact. This was followed by short paragraphs explaining relevant internships, academic background and skills in the field. An important thing to note here is you are allowed to attach your CV, so don't make this a factual read through but explain what you learned from your experience. The penultimate paragraph is about the college. This is where all those hours of research come to your rescue. A trick I learned was to read the dos and don't on the college website. This generally differs across universities. For example, Sussex suggested mentioning the names of professors rather than a blanket 'excellent faculty'. SciencesPo seemed to like a more holistic approach in the ways in which you can contribute to the college and wanted the students to go beyond just the course units. Hence, reading all this before writing definitely helps in tailoring your statement to suit the university. More than anything, be true to yourself. I remember watching an interview where a professor mentioned that in the first ten seconds, they figure out if the statement is honest or just exaggerated. This was precisely when I deleted my archaic first draft filled with recycled jargon from my seniors' statements and wrote out a simple one in all honesty. Authenticity is valued a lot, play that to your strength.
My suggestion is to draft it in one go without worrying about word limits, grammar and sentence construction. Great  Once you have everything on paper, then work on smoothening it out with all these rules. Always take breaks and never do redrafting in one sitting. You need to look at it afresh to understand where you can improve. Patience is certainly not my strong suit, hence I resorted to Modern Family to keep my calm. Figure out your own little hacks to keep your mental space happy (you cannot produce good content if the manufacturer is unhappy). Have two people (fondly nicknamed superhumans) who will read your final drafts. It helps to have an external perspective since you may be missing out on something that only another person can pinpoint. Pick people who have experience in this arena and would do justice to the important task of proofreading since it requires a good amount of their time too (huge shoutout to Sinan and Amogh for having my back).

After the tedious process of perfecting your personal statement and uploading all the required documents, you are ready to hit the golden 'Submit' button. Click on that and just like that, it is over and out. Congratulations! You survived. ?
Beyond this point, I kept refreshing my email every hour wondering if there is an update. I remember feeling panicky one day, indifferent the next and excited soon after. Since the acceptances came through (as a result of which I devoured a good number of chocolates), I now have a decision to make (and some weight to lose). Before I grapple with that and scholarships, here is some food for thought.
Do not go through an agency (specifically to people applying from India). It is a process where you learn a lot about yourself and going through the form on your own, will help you in your scholarship applications too. Your research is much more reliable than a third party (simply because we are human beings and self-interest is our strongest motivator). I have tried a few and found them professing options that served their vested interests. One of them even messed up my Warwick application and submitted it without attaching any documents. It is best to have your application in your complete control and there is no advantage you are missing out on if you apply on your own.
Start early. You have already won half the battle if you prep early. You will feel less pressurized, have more time and will be less likely to commit errors. This, I genuinely believe, was my biggest advantage. Since a lot of colleges have rolling admissions, the sooner you apply, the better your impression and chances are.
Join FaceBook groups. I came across a few that went a long way in helping me pick my college. great

PCDNetwork's Social Change Career Helping Line – This group is a one-stop remedy for all your questions and has a wonderful bunch of people. I was able to find great resources that will help in building a career in social impact. An absolute must for people pursuing careers in development and related fields.
Network Capital – I was lucky to have found this group as it allowed me to connect with at least fifteen students and recent graduates of my universities whose inputs were critical in my decision. It is a stellar networking platform, just like the name suggests.

Talk to people. Shyness had to take a backseat as my desperation to ask questions pushed me to reach out to people. I put a post in the above two groups explaining my dilemma, and that is when I was able to connect with strangers (turned friends) who provided valuable insights. I truly believe talking to people who have experienced the college you are going to, will tell you more than Google ever can. Just make sure you do your research so you aren't wasting their time by asking questions that you can find answers online for. The most important lesson I have learned is people are kind. There are so many of them waiting to help you out because they have been in the same hot seat and they understand. I have been fortunate to have met people who answered my questions (which you must have figured were plenty) with patience and went out of their way to help out a stranger. Now you know why I call them superhumans.
Whenever I have pondered over how I could possibly repay these superhumans who are two steps ahead of me, each one of them had one consistent answer—pass it on. This is my first attempt at repaying them by passing whatever I can on.
This blog piece is only a peek into the admission process. I plan to write a few more specific pieces on the colleges I chose, how to work your way through scholarships (without losing your sanity) and share the resources I have on timelines, formats and important websites. If this has peeked your interest, click on the link to join the secret group. Sign up form
by Vaishnavi Pavithran.
I would love to hear your feedback, suggestions and experiences. Please feel free to write to vaishnavipavithran97 [at] gmail [dot] com. For any queries, questions or if you just need someone to talk to, I will be happy to help out in any way I can. 
Bio: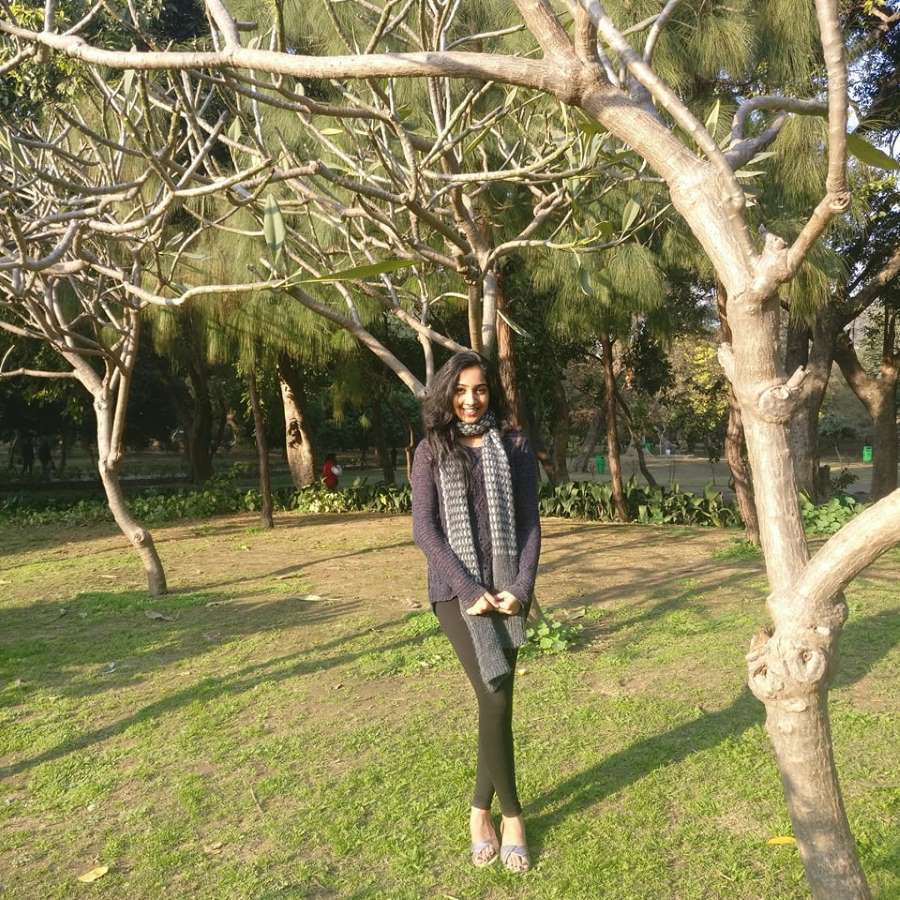 Working towards turning an ideal world into a growing reality, I am a dreamer intent on finding innovative solutions to age-old problems.
  I am commencing as an Emile Boutmy Scholar at SciencesPo, to pursue my Masters in International Development. A humanitarian, dog-lover and learner, I am keen to connect with individuals who are committed to making the world a better place.