This is a sponsored post on PCDN
We would like to invite you to join us for the Coexistence in the Middle East (CME) intercultural field program at the Hebrew University of Jerusalem, one of the world's top 100 universities.
This is a unique program convened by leading experts in the peacebuilding and development fields.  The program offers an ideal opportunity for students, professional peacebuilders, diplomats, academics, policy makers, to build your skills, learn and interact with Palestinians and Israelis from all walks of life including political and NGO activists, professional experts, religious leaders and government officials. Through engaging dialogue, you will uncover numerous issues, realities, resolution proposals, and peace initiatives, highlighting the human dimensions of this complex conflict.
As you can see in our past itinerary, CME enables participants from all over the world to experience the challenges and complexities of coexistence at a crossroads of humanity and:
Explore 'facts on the ground'and contrasting narratives in the Israeli-Palestinian conflict
Engage representatives from different national, religious, and ideological groups
Gain insight into the challenges and opportunities presented by the Post-Arab Spring
Examine the role of religion in peace and conflict in the Holy Land
Holy Sites in Jerusalem's Old City

Arab and Jewish Communities

The Golan Heights
Borders with Syria and Lebanon
"Security Fence"/"Occupation Wall"
Sderot and the Border with Gaza

NGOs and Government Institutions

The Sea of Galilee and Nazareth
The Dead Sea and Masada
Christian, Jewish and Muslim religious leaders
Diplomats and members of international NGOs
Military staff and residents of disputed areas
Israeli and Palestinian leaders and activists
Dissidents from Egypt, Iraq, Iran and Syria
Arab and Jewish government officials
Middle East scholars and experts
Representatives from across the spectrum of political parties
Subject to guest speakers' availability
Registration is now open for our two-week winter session from December 27, 2018 to January 10, 2019.The winter program offers undergraduates, graduates, faculty and professionals 3 credits and focuses on the highlights of the summer program. We have also confirmed the dates of our next summer session between July 1-25 and July 3 -August 14, 2019.
Application Deadline: November 18, 2018
Please note that space in the program is limited, therefore we encourage you to send in application materials as soon as possible. 
We hope that you will have the opportunity to experience the challenge of human diversity with us as other undergraduate and graduate students, academics, diplomats, activists, and professionals from distinguished institutions across North and South America, Europe, Asia, Africa, and Australia have already done. Read what students from all over the world have said about Coexistence in the Middle East.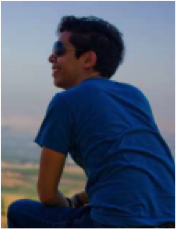 "This program definitely changed my life. It changed my point of view and now I have found that there are so many different perspectives regarding Israel and the conflict. I became more critical and analytical beyond the conflict. I have become more sensitive about human rights, about human beings, and about the differences between cultural religious thinking. I learned not to judge, and instead listen to the other side of the story."
Isaac Yussel Trava Zaga
BA International Business, ITESM CEM, Mexico
"Two words: Life Changing. I think the program exceeded my expectations in every way. I was consistently blown away by the access we were given to prestigious individuals and institutions at the very center of the political, religious, and cultural life of Israel. It was a once in a life time opportunity to achieve access to the inner workings of a special country on a global scale. I realized the path to coexistence is not picking sides of right and wrong but putting history behind and moving forward to reconciliation. This course will continue to shape and transform the way that I approach politics, faith, and activism long into the future."
Angel Collie
Masters of Divinity, Yale University, USA
"We had an amazing opportunity to meet people that we would never have the chance to meet otherwise, as well as to travel all over the country. The combination of these two things has definitely broadened my understanding. There is nothing like being on the ground and talking to people who are living with the conflict every day. I have studied this area before at school and I have always been fascinated by it, but there is something really unique about talking to someone who is in Sderot and is under rocket fire, or talking to Palestinians who have to wait hours every day to get to work. It takes away the academic aspect and provides a real life perspective that you are not going to find anywhere else."
Zane Schwartz
BA International Relations, University of Toronto, Canada
We look forward to welcoming you and your students to Jerusalem in the near future!
Coexistence Trip Team
[email protected]