On August 1, 2017, PCDN launched the Social Change Career Helping Line, the world's first crowd and  expert sourced resource for careers in change.  In its first five weeks, we've grown to over 600 members from 15 countries ranging from the US, Nigeria, India, Mexico, Cambodia, Croatia and more. There have been over 1,000 posts, comments and reactions.
There have been amazing honest discussions about the many challenges and opportunities in starting or advancing a career of change. The purpose of the Helping Line is to provide a space to share struggles, questions, wisdom and more as we collectively seek to combine careers of purpose, impact and sustainability (it isn't always easy). The questions posted in our first few weeks have ranged from how to find a job at the United Nations, how to sustain one's work (not burnout while trying to change one's community or the larger world), to what are members' favorite books in change, to how to transition from one sector to another.
The questions have brought in many peer responses from members of the group, from the PCDN Team and some of our amazing advisory board members (we are very grateful for their participation) who are thought leaders in their respective fields. Each month we also select several key questions from the Helping Line and ask a few of the advisory board members to provide responses.  This is our first such post and we will provide an overview of some key responses that we hope will help guide others on their career paths.
The questions the career advisory board addressed below include:
How to make time for continued professional development when you are a busy, overworked non-profit worker?

How to start a career in impact investing?

How to get a job when you don't have real life experience ?

What to do when an employer asks for a salary history and your pay levels are lower than you wish to have in the potential new job?
The respondents for this month include:
Paul Breloff, Co-Founder & CEO,Shortlist Professionals
Jessica Loman, Director, Special Projects Toniic

Dr. Catalina Rojas, Director of Innovation, PCDNetwork
Dr. Craig Zelizer, CEO/Founder, PCDNetwork
Bri Riggio Career International & Experiential Education Advisor / Career Development Facilitator
The Answers from our Career Advisory Group from the key question in the Helping Line in August are below. Please keep the questions coming and let others know about the Helping Line.
What is the best way to start a career in impact investing?
Paul:

About 7 years ago, I was trying to transition from a role leading business development for a big microfinance institution in India into impact investing, and it was brutal. I applied to what feels like dozens of open roles and never even got an interview. Since then, I managed to set up my own in-house venture fund at a big nonprofit, and have a better understanding of how hard it is to make the transition – but also some ways it can be done.
First option, of course, is to directly apply to open jobs. Good luck. It happens, but for every one impact investing role there are often hundreds of applicants. Hiring managers for funds go into zombie mode trying to triage resumes, and are often looking for evidence of strong analytical skills (read: management consulting, i-banking) and/or principal investing experience (though let's be honest, if you had that, we wouldn't be having this conversation). So: if you're hoping to stand out in a crowd of resumes, get some of those goodies on yours.
Say you're not a consultant, i-banker, or investor… what then? A few ideas to consider:
Go join a startup: if you're not going to bring the analytical/finance toolkit (proven by having a fancy name on your resume), then you better bring actual operating experience. So go find a startup you love, land a role that will give you some perspective on how startups create and destroy value (consider product, sales, or BD), and build something awesome. Who knows, if you get enough shares early, perhaps you can invest your own money rather than someone else's!
Do the job before you have the job: Another thing I've seen work is to figure out a way to introduce yourself to investors you respect, and then start actually finding them deals. Find companies, do a bit of research to figure out if it's an interesting opportunity, and send an email: "So I was learning about this company and thought it could be a fit for you. Here's why…" Investors love this hustle. Bonus points if you share something the investor hasn't seen yet. Of course, caveat: if your analysis is crap or the company stinks, this could very well backfire.
Find the backdoor: You can also look for those "non-investing" roles within funds (often something relating to portfolio support, marketing, or impact measurement) and use your insider status to demonstrate your worth and explore a transition, over time. This is by no means easy, and fund managers are often on-guard against this sort of two-step – but I've seen it done!
Start your own fund: Yes, sounds crazy. But I've been seeing this happen more often in recent years. In my own case, I was able to leverage relevant experience operating in the financial inclusion sector and a strong POV on how fintech was evolving to get a foothold in investing, which eventually evolved into a larger platform that has now put money into 30+ startups around the world. This one involves a bit of luck, for sure… but doesn't everything?
Jessica:

Online research including reports, news and events on impact investing (#impinv) and social entrepreneurship (#socent). Find more information through a few of my favorite impact investing resource and news sites:
Attend and/or volunteer for impact investing events in-person or online. Here are active calendars to tune in to impact investing events around the world:
Create opportunities to engage. If you are unable to attend events listed in the calendars above, or the conversation and the people you would like to meet are not at events any time soon, create the event! This may come in the form of an informational interview, blog interview, podcast, global webinar, or in-person event.

Network with a solid one-line pitch
______________________________________________________________
How can I get a job in peacebuilding (or any social change sector) when one doesn't have direct experience?
Jessica:

Ah, by mere fact of you being real, you do have real life experience! Here are a few ways you can highlight your experience thus far and get the skills you need to move forward:
The main section heading in my resume read "Leadership & Experience" for a couple years before it read "Professional Experience." It depends on what are the needs of the position, but certainly highlight for employers your experiences even if they might not have a company name and salary attached. Your experience might include leadership postions in school, membership in particular student clubs or sports, project-based research and learning, volunteer work, etc. When I have hired for entry-level positions, the professional experience was not expected and even perceived as over-qualification in some instances.
Tell your dream company, you'll work for them for free. One of my favorite summers was a result of me asking to work for a record label for free. With a set number of hours per week, you can gain some valuable experience and develop the relationships you need to step forward! 
Be sure the skillset or experience you will gain is what you need for your paid employment of interest. 

Don't underestimate yourself if you think you may even be able to negotiate for an internship for a small stipend. 
Everyday service jobs can open doors. If you are on PCDN seeking work with a social impact, then service jobs are a wonderful place to start and gain experience. While working for free at the record label, I worked in the evenings waiting tables. For me, serving others in this way certainly has its challenging moments alongside a lifetime of valuable lessons and great memories.
Catalina:
A couple points. You DON'T have to get paid in peacebuilding to be working on the sector or any other. You can find conferences, events, meetups, professional networks (like PCDN) and many others to meet other professionals, go their meetings and make connections. This can lead to being involved in projects perhaps as a volunteer first, maybe then as a consultant. You can also start a blog, these days this is critical. Find topics, create a research agendas, publish your contents and that is a good name to gain recognition in the space. But perhaps the most important point for me is to recognize that you can work in peacebuilding but utilize your already gained skills. Let me explain, you can be an IT person, and accountant, a fundraiser, a grant writer, an online marketing person and contribute in a direct manner to a peacebuilding project. We all want to say we do peacebuilding, because we have this narrow view that peacebuilding is doing the workshops, facilitating dialogues or whatever it is. You can participate and make a peacebuilding project more sustainable by applying your already gained skills. Now, if this is you life´s dream, well get a degree and do it. But there are myriad ways to participate in social change projects.
2) Start looking at job descriptions in the field you want to work and see what skills/experience is required and what is optional
3) Put a lot of thought into how to reframe your current skills/experience to better match the desired job path. There are often creative ways to link your current skill set to the area to a potential different sector
4) Try to see how much experience you can gain if you have time to volunteer or better yet explore fellowship programs (such as the Rotary Peace Centers or similar ones such as the Herbert Scoville Jr. Peace Fellowship. In full disclosure Rotary  does advertise on PCDN to recruit applicants. It is one of the most amazing programs in the world)
5) Do your market research and actually see the types of jobs out there (and get a sense of the competition), understand the salaries and look at the pros/cons of doing a career in this area
6) See if it is worth doing graduate school or some type of professional training. Some things can be done online or relatively cheaply. Some good resources for peacebuilding include of course PCDNetwork (make sure to get on our website and newsletter), United States Institute of Peace (has some great online trainings) and look up others.
______________________________________________________________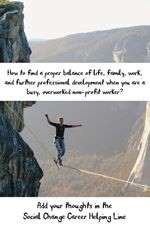 How to make time for continued professional development when you are a busy, overworked non-profit worker? 
Mohit:
I believe that continued professional development is even more necessary when one is feeling busy and overworked. This is because how busy and overworked we feel is as much a state-of-mind than a reflection of the reality of the work-load. Based on my experience working with mid-career professionals from the non-profit sector, academia, and the private sector, I rarely hear of roles or work-loads that end at a certain time. In other words, everyone has to manage for themselves the feeling that there is more work than time available for it. Most professional development allows space for reflection on one's day-to-day, so that one can reframe the notion that one is overworked and see oneself instead as committed. In order to sustain commitment, everyone needs to renew their skills and energy levels, and good professional development also provides that.
So scheduling in regular professional development should be treated as part of one's "work" and is something that any responsible knowledge worker should plan for.  In addition to skill development, there are usually several additional benefits to professional development including meeting potential customers and partners, staying current on the industry, and networking with peers. It should be a good investment of one's time if one looks at the time-return on investment over a 6-month period. It's a bit like getting 20-mintues of exercise in a day – it takes a little time out of one's schedule, but energizes and renews one to be more alert during the rest of the day.
Catalina: I really appreciate this question because that is at the center of why I do what I do. I know the reality of non-profit workers or professionals in the social change business is one of less compensation, long hours and basically burn out as a result. This has become the norm and one of the things I want to work towards is to re-frame this reality. Do you have to choose between work/life balance in order to be committed to positive change? I like to believe not. Basically because with that framework the individual sooner or later will either get sick burn out and in the long run will stop his-her work. We need to change the systems and the attitudes of normalization of such culture of being underpaid and over worked ALL THE TIME.
Craig: I wouldn't say personally I do a great job at balance (even though I work for own social enterprise). A few things I do really well: Take periodic spontaneous play days or days off, do date nights with my spouse, and make play time for my son, see friends, travel, use the treadmill desk at work (it is amazing I often do 3-4 miles on a rebeldesk while working at 1776 , attend conferences and events, read, and continue to learn through relevant courses, networks. Things I don't do very well: Turn off, turn off social media (getting offline makes a huge difference), exercise enough, make time for purely fun reading, turn off thinking about PCDN or the world, build in structured downtime, meditate on a regular basis, etc.

_________________________________________________________
What should I do when employers ask for a salary history?
Jessica: What to do when an employer asks for a salary history and your pay levels are lower than you wish to have in the potential new job?
In short, add in the dollar amount of benefits into your salary figures. If that still is not the figure you wish employers to settle on, in the cover letter or interview, you can also be sure to highlight what is your expected salary.
Bri: I know that some employers "require" an expected salary in order to move on in an application process (or sometimes even to submit the application in the first place). If it's unavoidable, I advise my students and alumni to offer a realistic range of what they would be looking for (a range based on a thorough, researched understanding of their own market value and of the salary expectations for their specific job/industry/region).
I have also heard the piece of advice to essentially tell the prospective employer that you are not at liberty to disclosure your current salary because your current employer does not allow you to disclose, but depending on how true this statement is, I imagine it could cause more trouble than it's worth (or worse, be an outright lie that could come back to bite you).
Catalina: Don't forget to ground your question to a country I assume this is US based.Is it legal to get this question asked. Let's say it is
You can always answer the question with another question:
What's the organization's salary range?
That way you can place yourself in that range and depending on the fit, your experience and skills you can identify if you are in the low or higher end of the range.
Also knowing helps in case the amount is so low you rather know earlier and don't waste anyone's time.
Craig:  I was interviewing for a position once that sounded great. Had a wonderful first interview and then they invited me to NY for a second interview. I asked if they would pay my travel and they said no. Then I decided to be 100% transparent and asked about the salary range. It was far below what I had hoped and thus graciously backed out of the interviewing process and there were no hard feelings on either side (I am still on very good terms with the org).
---
If you are still reading this, good job! you are one committed social change professional.  Yes, we know it was long but we had so much wisdom from our advisory board.  Join or go back to the Facebook Career Helping Line every time you have a career question and keep checking the responses from the Advisory Board.  Good luck in your professional search and hope you are getting a lot of out this group. Invite others who might benefit!
Save