Stories from the UPeace Alumni
(This is a sponsored post on PCDN)
The impact of the University for Peace (UPEACE) can be measured by the work of our alumni. UPEACE alumni are leading advocates for peace and justice in the fields of human rights, gender, environment, development and international cooperation. They are on the forefront of addressing many of the key challenges facing the world today, whether working on building peace through civil society or governmental initiatives, advancing human security, helping improve the environment, bringing together diverse stakeholders to address complex policy issues and much more. Our rigorous curriculum and outstanding faculty provides students the skills and training to pursue careers in a wide range of sectors. This versatility provides a very important advantage in today's world. The experience of studying in a multicultural setting offers another benefit to our students and alumni; they are all able to work anywhere in the world with a global vision and the experience of dealing with cultural differences.
Here are only a few of the many excellent examples of UPEACE alumni making a difference in the world and finding success in their personal and professional lives.
Check out our graduate Programs Today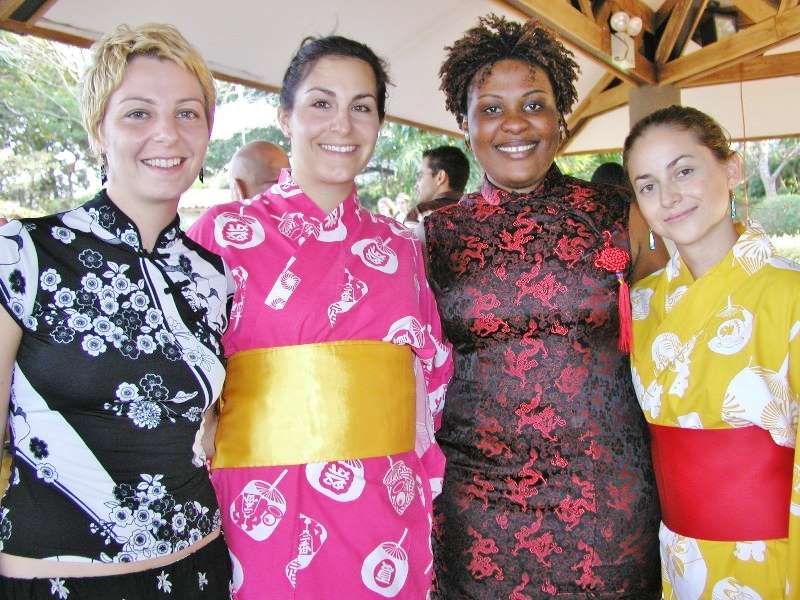 Mercedes Somosierra (Argentina)
Peace Education, 2011
Analyst of national and international security/Researcher on human rights education/Advisor on pedagogy and methodology of education
If I had to summarize how UPEACE contributed to my career, I would say -to put it briefly- that my year in campus made me grow professionally and personally in such a way it changed my whole perception of the world and its dynamics, allowing me to understand and solve conflicts and situations I could not understand or deal with before. I am currently working for the Ministry of Security of Argentina, in the area of analysis of crime and national/ international security matters.
Olivia Caldwell (USA/France)
Responsible Management and Sustainable Economic Development, 2011 International Partnerships and Business Development Manager at CEMEX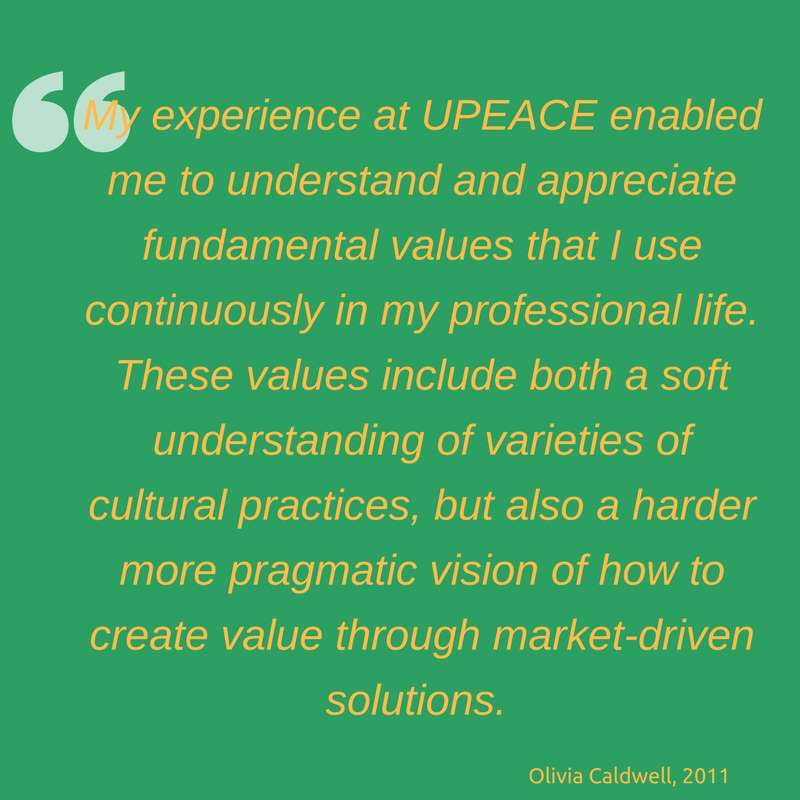 Luís Guilherme Alves Teixeira Gonçalves (Brazil)
International Peace Studies 2013 – 2014
UPEACE gave me many tools, arguments and content to discuss peace and work on the field. Some main issues we have nowadays in the world, such as Social Justice, New Trends in Peacekeeping Operations, Peace building in the grassroots level, Media tools for Peace, Insurgency groups, Mediation and Reconciliation, gave me ideas and inspired me to work in these areas as I enjoyed most and became interested enough.

Abdullahi Mohammed Odowa (Somalia)
Natural Resources and Peace, 2010 General-Director of Somali Observatory of Conflict and Violence Prevention (OCVP)
During my Master's Degree in Natural Resources and Peace at UPEACE, I was trained to articulate and critique key theoretical and conceptual dimensions related to natural resources and development. In almost every course there was a field trip component that helped me better understand and apply these theories through interaction with people; facing these challenges in their real day-to-day life and experience and comparing and contrasting these real experiences from the field with the theories discussed during the class. In addition to this, my interaction with other students draw from more than 50 countries across world. UPEACE helped me to be truly international person capable of going along with and interacting with people from different background, beliefs and cultures.
Amel A-Fadil Aldehaib (Sudan)
Gender and Peace Building, 2008 PhD Candidate- Gender, Race, and Social Justice, University of British Columbia
At UPEACE, I was introduced to various theoretical debates and practice-centered dialogues around global conflict, which challenged my knowledge in many ways. I was able to both learn new ways of thinking and unlearn outdated practices in peace education and gender justice. I had opportunities to understand and analyze the complexities of local and global power relations. As a result, I was able to design and produce innovative resource materials to facilitate workshops and trainings with different civil societies, as well as conduct community-based research around conflict and peace.
For more information about the
Website: www.upeace.org
Email: [email protected]