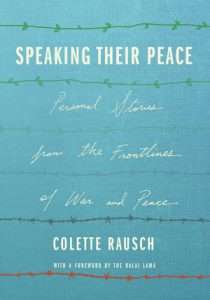 "A remarkable book in both big and small ways. The landscape of the book – the disturbing, scarring, but often astonishingly resilient world of souls emerging from war and violence into a tentative peace – is a cautionary tale full of urgent lessons to be learned. But the heart of the book – the specific voices of the people who suffer and survive – will stay with me. This is essential reading for all who wish to make a difference in these settings"

Peter T. Coleman, professor of psychology and education, Columbia University

 

"This book should be required reading for all those involved in postconflict peace and reconciliation processes"

Lady Anne Greenstock, Advisory Board Member, Women for Women International
______________________________________________
I would like to share several new resources for a publication dear to my heart, Speaking Their Peace: Personal Stories from the Frontlines of War and Peace. Featuring over eighty interviews of people from eleven conflict zones (Afghanistan, Burma/Myanmar, Iraq, Kosovo, Liberia, Libya, Nepal, Nicaragua, Peru, South Sudan, and Yemen), this book depicts a deeply personal and human side of conflict by highlighting the lived experiences of individuals who have been affected by war.
The interviews in the book contain the stories of people whose lives have been touched by war.  Many agreed to share their stories because they wanted to make a difference in the world a variety of ways. Some simply wanted others suffering through violent conflict to know they are not alone.  Others wanted to pass along cautionary tales to policy makers and government officials in their own country and abroad of what to do and not do when preventing and resolving conflict.  While others wanted to simply be heard – to say I am here.
Those of us who heard their stories and put the book together learned that story telling is a powerful vehicle for transformation and learning. We also learned that the only way to understand all sides of a conflict, you have to put yourself in the middle of it.  That we can all be a bridge and amplify the voices of others to remind ourselves and others that we are all human beings and what we have in common is greater than what divides us.  
We have crafted a website featuring resources for teachers and students alike – including a short testimonial from professors using the book as a teaching tool; discussion guides; and an interview with me discussing the conception and vision of the book.
Using Speaking Their Peace as a teaching tool/ discussion guides: http://www.speakingtheirpeace.org/teachers-guide/  
Author interview: http://www.speakingtheirpeace.org/about-the-book-1/#anchor2
It is ultimately my hope that those working in peacebuilding can use this book as a resource to teach and to better understand the multidimensional consequences of conflict. 
About the book:
Wars dehumanize. This book humanizes. To those who have been silenced by the trauma of conflict, gagged by fear and conformity, and muted by the world's indifference, this book gives a voice. And it is an unforgettable voice: powerfully, intimately human, heart-wrenching and heart-warming in equal measure, singing a song of horror and of hope.
Packed with eighty riveting interviews from eleven conflict zones around the globe, Speaking Their Peace lets "ordinary" people tell their own extraordinary stories of life during wartime and their efforts to build a better, more peaceful life for themselves, their families, and their societies. This emotionally compelling book puts a human face on the news reports that usually skim the surface of the trauma of violent conflict.
Speaking Their Peace will change the way you think about how people cope with war and the transition from war to peace.