This is a sponsored post on PCDN.
What NSU's Conflict Analysis and Resolution Alum are Doing
Scott M. Woods, Ph.D., graduate of the doctoral program in Conflict Analysis and Resolution in the Department of Conflict Resolution Studies in NSU's College of Arts, Humanities, and Social Sciences (CAHSS) is the Director of Programs at Colorado State University Online. Woods directs online programs in Business, Engineering, and Natural Sciences. He also teaches courses in the graduate certificate program in Conflict Resolution and Mediation, including Multi-Party Conflict Resolution, and Conflict Resolution in the Workplace. In addition to his doctoral degree, he earned his M.B.A. and his B.S. in Business from the University of the Redlands.
Woods said of his Conflict Analyses and Resolution degree from NSU,
"Earning my Ph.D. from NSU has served me well in meeting the life goals I established in a time of transition and transformation in 2000.  I have utilized my mediation skills in the courts and in a land dispute in Honduras, as well as every day in the workplace. I continue to grow academically as a lifelong learner utilizing the fantastic research skills gained in the program."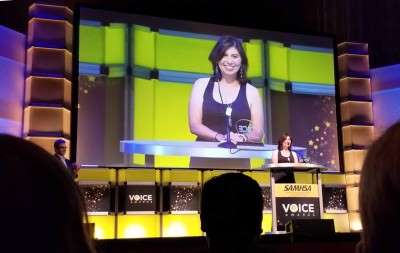 Anita Holsapple, M.S., graduate of the master's program in Conflict Analysis and Resolution in NSU's College of Arts, Humanities, and Social Sciences (CAHSS) received the SAMHSA 2018 Voice Award for her documentary, Battlefield: Home-Breaking the Silence on PTSD, Addiction, and Recovery Support. SAMHSA, the Substance Abuse and Mental Health Services Administration recognized community leaders, members of the entertainment industry, and others for their work in raising awareness about behavioral health and substance abuse recovery. Holsapple received the award at a ceremony in Los Angeles.
Holsapple's film focuses on returning veterans and their struggles with PTSD, substance abuse, and the roles of family and community support.
LEARN MORE ABOUT THE M.S. AND PH.D. IN CONFLICT ANALYSIS AND RESOLUTION AT NOVA SOUTHEASTERN UNIVERSITY. 
NSU GIVES YOU A COMPETITITVE ADVANTAGE IN YOUR CAREER, YOUR COMMUNITY, YOUR LIFE!