Meet Anat Marnin and Bushra Awwad, bereaved members of the Parents Circle and facilitators in our Parallel Narrative Project (PNE).
As facilitators, Anat and Bushra help train program alumni, who go on to become peace leaders, solidarity activists, and agents of change.
---
My name is Anat Marnin. I was born in Israel, the little sister of 2 older brothers– Pinky and Yair. When the time came, like all other Israeli youth, my brothers were recruited for military service, and had great plans for afterwards.
When war broke out in October 1973, both my brothers fought as combat soldiers in the Armored Corps. From the first day of the war, there was no sign from them, until they were declared "missing in action". Then the worst inconceivable news was delivered to us. We were told they were both killed on the morning of October 7th, Pinky in the north, Yair in the south.
"I felt, at that time, that my life had come to an end."
Anat Marnin
Inside me there was chaos, but I shut it out and hid it well, so that I could be of support to my parents. I was told I must be strong for them. I feared that if I revealed my pain, it would spill over and consume everything on its way.
I joined the Parents Circle about 15 years ago. Within this unique organization, I met a group of inspiring people who demonstrate that humanity goes beyond nationality and that the pain of loss is the same on both sides.
A project in which I am intensely absorbed as a co-facilitator, always with a Palestinian partner – is the Narrative Project, which is based on our members' experience in conducting reconciliation work through the use of personal narratives.
On different occasions, I found myself profoundly moved, witnessing some special encounters through my work with this project, like my experience with my Palestinian friend, Bushra Awwad.
---
My name is Bushra Awwad, and I am a mother of eight from Hebron, in the West Bank. I lost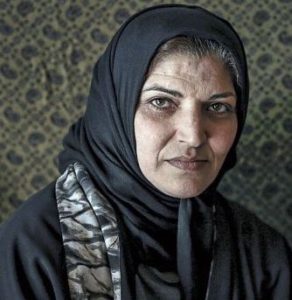 my beloved son, a young and beautiful boy, to an Israeli sniper. At that time, I felt that if I were to meet the man who killed my son, even after 100 years, I would kill him.
But life has its strange twists and turns. I found myself at a meeting of 15 bereaved Palestinian women, people who understood that revenge would never bring their loved one back, and that a non-violent quest for reconciliation would be the only way to achieve a lasting peace and not just a cease fire.
When I first met with Israelis, I could not hold myself back. I couldn't look at their faces. It was extremely hard and exhausting. But I gained two things from the Parents Circle's women's program: a network of mothers that share and understand my experience, and the idea that there are humans on the Israeli side.
I now participate in this organization as a facilitator for PNE and dialogue groups.
"Some of the people in my community accept my activism and some of them don't. Some of the people say to me that I'm selling my son's blood. But I'm not. I'm buying the blood of my other Children."
Bushra Awwad