One June 17th we gathered the world's most talented innovators and organizations working at the forefront of impact careers. We combined our collective experience, reach, and creativity in a highly interactive & engaging online event with hundreds of professionals and students striving to combine purpose and their career.
The Career Popup had 13 interactive sessions, plus keynotes, plus meetups, networking and 30 exhibitor booths.
While the Popup has ended, for those who still want to access the amazing resources you can still register and get access to all recording to find incredible actionable insights and strategies for advancing a career of impact in a wide range of sectors at the intersection of impact and change.
WHY ACCESS THE RECORDINGS:
Learn from leading impact professionals
Support organizations doing innovative work with refugees and migrants
Learn about the key trends and opportunities in social change and social impact careers
Receive tons of resources to help you in your next step of your career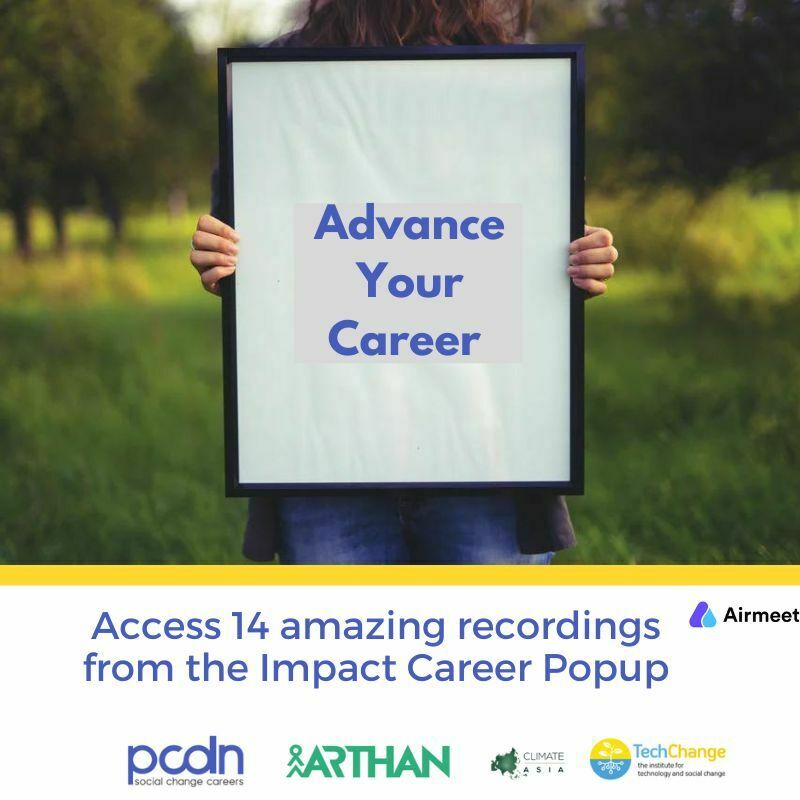 THE Co-Creater Collaborative
This event was convened by a group of leading social sector organizations and professionals who are shared their collective expertise, passion and energy pro-bono to make this the best event possible including:
Featured Organizations to Support
Apart from helping as many people in advancing careers of impact, a key goal of the Impact Career Popup is to help support innovative orgs at the frontlines of innovation and impact working with migrants and refugees in diverse parts of the globe.
As part of the registration process to access the recordings attendees need to select one of our partner orgs (or you can choose any org you would like to support) and make a donation of $1USD or above (the amount and org is up to 100% up to you). During the registration process, attendees will need to upload proof (a receipt) of the donation made as this will help us track the total support generated from the event as well as for which organizations.
Below are our featured partner orgs.
Exhibiting Organizations
The following social impact organizations had booths at the Career Popup.
How do I register?
To register click here. During the registration process you will enter your name, email, country, current org or employment status + to complete your registration you will need to make a donation of $1 USD & up to one of our partner organizations working on migration or any org of your choice (as part of the process you will be asked to upload a receipt of your donation).
How will access the recording?
Once you register you will receive information to access the recording within the conference page on Airmeet. The link is only for individual personal access and not be shared with others.
How can I see which sessions recordings are accessible?
In total we have 12 of the sessions including workshops and panels that were recorded + two fireside chats. See the full list below. The only session where we had technical problems and our speaker wasn't able to attend was the first fireside chat with Victor Ochen.