There are many components to the job search, and there is no magic solution to landing one's ideal job. It requires a combination of having the right skills, networking, successfully framing one's experience in a resume a strong cover letter and a bit of serendipity.
It is important to stress that even having a perfect resume or cover letter doesn't mean you will land an interview or get the job you're applying for. But having a compelling resume and cover letter (assuming you've taken all the other steps) are critical factors to get you closer to your dream career or job.
Resumes can serve as a map of some of your key experiences and qualifications for the potential job. However, many employers around the globe still require a cover letter that provides a compass to understanding your relevant experience and resume.
A strong cover letter can make a critical difference to a potential employer in understanding what makes you a compelling candidate and having your candidacy receiving further consideration.
A cover letter is also tangible proof of your writing (and thinking skills). It's a chance to weave together a compelling story of how your professional experience, training make you ideally qualified for the position you're seeking.

Below are some key suggestions for developing the best cover letter possible.

Are cover letters outdated? It depends. Some employers might not look at them (or not even ask for one). But, it is still a key requirement for many applications in the social impact ecosystem. But always, always review the particular job application procedures to see what are the requirements. In case you do need a cover letter you might as well do it right. Here is how.
First, let's explore what a cover letter is. It shouldn't cover your entire life history (that is an autobiography. Congrats if you do want to write one in the future). It is a document that tells a compelling (and relatively) short overview of the story about how YOU have the skills, experience and passion to do the job THE EMPLOYER needs done.
Here are key tips to a compelling Cover Letter
1) Do your homework (before you write)
Before starting a cover letter or even a job application, spend some time doing the following:
Read, re-read and digest the job description
Think about what is the potential focus of the job, the skills and experience required and the language used.
Ask yourself some simple questions including:
Do I have the experience needed for this position? Do I meet all the minimum qualifications?
What are the most important aspects of the job? For example many job descriptions have a ridiculously long list of tasks. Try to figure out what are the most essential ones.
Read the organization's website and if needed annual reports to best understand the institution and and the language/metrics used to describe their work.

Ask yourself if I were offered this job would I take it? What are some opportunities and concerns about the position that you can infer from the organization's materials?
Look at outside sources about the organization. Look at sites like glassdoor.com , indeed.com, LinkedIn, and resources such as peer networks, professional associations to see how others rate the institution. One can often also get a sense of salary ranges (of course take these ratings with a grain of salt as often more disgruntled employees are the ones who may fill out such online feedback).
2) Figure out the Problem/Solution
In reviewing the job description and the mission of the organization try to decipher what is the problem that the organization is trying to solve in its overall work and the role of the particular position. For example, an organization might seek to address the problem of lack of networks for social entrepreneurs in the Global South through developing accelerators or coworking spaces to increase ability of entrepreneurs in these regions to scale. Make sure you have a sense of the overall mission/goals of the organization. Make sure to see how the position connects to the overall work of the organization. For example, is the job focused more on external actors such as communication focus that seeks to show potential funders and partners the value of the organization's work or is it a more internal focused position that engages program beneficiaries.

3) Review your experience
Once you've done step two, decide what are the most important skills & experience to highlight for the position and show your ability to have an impact. What you ideally want to do in your cover letter is show how your experience makes you the ideal candidate to contribute to the mission of the organization in addressing the problem/implementing the solution through the work of the particular job. This shouldn't be just idle words, but clearly demonstrate how you understand the particular sector, and your previous relevant work accomplishments (only a few).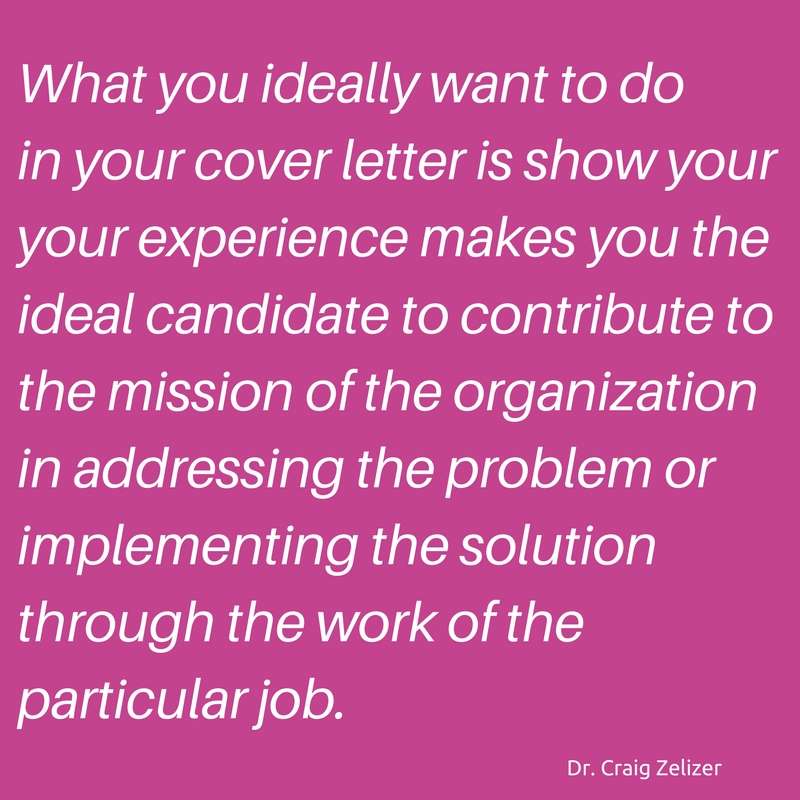 For example, if an organization is seeking someone who can design and deliver trainings, the employer wants to know if you can adapt learning objectives to a particular audience, design curricula, deliver a compelling training, learn and adapt. Thus, a cover letter might highlight something like the following:
A central focus of my career has focused on using innovative and participant centered training methodologies to maximize the skills of diverse sectors in the sector to better advance social impact. I've designed and delivered training programs to over 1000 participants in diverse sectors ranging from government to civil society. I am highly skilled in facilitation processes, working across organizational and sectoral divides and conducting both in-person and online-trainings.
Something like this paragraph can be a great start, but one of the key aspects that differentiate an okay cover letter from a great one is framing how one can contribute to the work of the new organization. Thus adding a sentence or two such as this is key:
Given that XYZ is committed to the rigorous evidence-based capacity building in their programs, I believe that I have an ideal combination of professional and academic experience to help scale the organization's work. I am deeply committed to your philosophy (try to reference the specific goal's of the institution).

4) Make sure you write the right cover letter for the context
There are many types of cover letters. Some might be as simple as indicating you're submitting your application for the position. At many governmental positions or intergovernmental positions a cover letter may not be required. For many nonprofit and for-profit openings a more formal and detailed cover letter is often best. Review carefully what is asked for in the job posting.
5) Show how your entire life has destined you for the opportunity without being egotistical.
One way to frame an amazing letter is to approach the position as if you're entire professional and academic life has destined you for this opportunity. Finding a way to tie together your studies and professional experience (telling a coherent but not overly long story) can work wonders. In particular, show how this particular opportunity is something that is the next natural step in your career based on a clear trajectory. But in doing this, it is important to tell one's story using data and results of your previous work. This is a fine balance as one should use bold language to clearly show how you can produce results/are an immensely talented individual without spending the entire cover letter tooting one's own horn.
This approach will only work if you truly have a strong foundation to base your letter on. If this isn't the case using this approach can backfire, as employers will see that your approach is mostly based on talk and not evidence.
6) Show your Commitment to the Broad Topic and Specific Organization
Too many cover letters fail to make a link to how one's career has been focused on the larger issues in the particular sector and/or to make a case for why you want to work for the particular institution. For example, someone seeking a position in Human Rights might do a wonderful job demonstrating a commitment to reducing human rights violations around the world and building the capacity of local actors to take action. However, the applicant may fail to say why he/she wants to work for the particular organization that is hiring. Making the case for both the larger field and why this particular organization is key.
7) Write for your Audience
In writing the letter think who is your audience? Is it the CEO of a small organization, a human resources professional or a program officer? What do you think are the boxes they want to check off in a cover letter while they're reading the document?
As emphasized earlier a cover letter should fit the context and particular job posting. In general, from my experience a cover letter for a nonprofit opening in the U.S. might be one page to 1.5 pages, while for profit may be one page or less. But in most cases focusing on the quality and content may be more important than the length (as long one doesn't go overboard).
8) Edit, Edit, Edit
Most cover letters will require several rounds of edits. For me personally what I find best after doing my homework is to write a draft letter without too much thinking so that I have text down. Then I can go back and edit several times and/or have a friend or family member review. Make sure the document is checked for spelling and grammar (as mistakes will hurt your chances of getting to the next step), that you don't go overboard and provide too much detail, that you think the letter will make see your strong qualifications and potential for the job, etc.
9) Develop Several Versions of the cover letter
A strategy I strongly suggest is once you start the job search and drafting cover letters is to develop several generic cover letters for different types of employers. For example, one cover letter may be for non-profit or research jobs, another might focus more on private sector and your relevant tech or social media skills.
Developing a strong cover letter can take hours or more. But once you have a good draft you can then use the document as basis for future cover letters and revise/adapt the cover letter in a much shorter time frame (but always make sure to adapt if possible).
10) Track Your Applications
As outlined in our resume tips make sure you track your applications throughout your job search. This can also include your cover letter and what how you might submit different versions (using different language or metrics) to various employers. Tracking over time can give you a sense of what language or framing of your experience results in the best results.
A final suggestion is have fun with the job search process. As we have emphasized it can be a long and arduous process, filled with ups and downs. Finding your dream opportunity and submitting an application can be exhilarating, but not getting the job can be a huge letdown. The job search is more of a marathon than a sprint. Taking time to develop the foundation for a strong cover letter can help sustain the effort needed to land the next position. Even if you aren't currently on the market, having a strong cover letter ready can be invaluable when unexpected opportunities arise.
What are your suggestions/resources for developing the best cover letter for kick-ass results?