This is a sponsored post on PCDN
Andrea Bartoli, Dean of the School of Diplomacy and International Relations at Seton Hall University, recently spoke about the importance of a degree in international affairs during a time of transition in the world.
We live in a world where multiple actors are increasingly playing on both local and international levels – the debates between them intensify every day. Recent activity in the Philippines and in Ukraine are examples of this volatility.
The School of Diplomacy believes that whatever you want to do in this world-- whether you aspire to be the next U.S. president, work on Wall Street or at a local NGO -- you must understand our international system as a whole, and your place in it. You need to appreciate the consequences of your actions, identify opportunities and build relationships.
As a school, we are looking at how what we do impacts others. We are a founding member of an international movement that encourages states to have national processes to prevent genocide and crimes against humanity. We have challenged students to put forward ideas for achieving the UN's Sustainable Development Goals. Why do we have this proactive and collective orientation? It's because the ethos of our School is that by coming together and recognizing the contributions of many, across all levels, we can make the world a better place for everyone. Diplomacy is no longer just something that is done by state representatives, in conference rooms, behind closed doors. Our School helps students develop their voice and leadership potential so that they can confidently join the most important conversations of our time, now.
Quite simply, the need for a good professional school of diplomacy and international relations is greater than ever.
About Us
Founded in 1997 in alliance with the United Nations Association of the USA, Seton Hall's School of Diplomacy and International Relations is an affiliate member of the Association of Professional Schools of International Affairs. With class offerings just 14 miles from New York City, at the UN, in the heart of Washington, D.C., online and around the globe, our School brings together an international community of students with a faculty of award-winning scholars and veteran field professionals. Through one-on-one advisement across 11 customizable graduate programs, hands on application at over 600 internship partners, and dialogue with nearly 40 international leaders and policy makers each year, we are preparing talented, diplomatic professionals to advance global goals across the public, private and nonprofit sectors.

Executive M.S.
Designed for professionals with seven years of experience, this program offers the flexible training needed to sharpen your skills in international affairs through an accelerated 10 course sequence that can be completed in one year of full time study.
M.A. Program
As an M.A. student, you'll gain a thorough foundation in international affairs, along with career essential skills and leadership abilities that will distinguish you from your peers. You'll choose two of our 13 specializations to develop expertise in critical global issues and regions of the world. Your experience will culminate with a critical research project and a professional internship with an organization such as Chemonics International, Goldman Sachs, the U.S. Supreme Court or UNICEF.
Dual – Degree Programs
Complement your study of international relations and expand your career opportunities by combining our M.A. with one of Seton Hall's outstanding graduate programs in Law, Business Administration, Public Administration, Strategic Communications or Asian Studies.
The School's 15-credit certificate programs in Global Health Management, Post-Conflict State Reconstruction and Sustainability (online) and UN Studies are designed for those who want to explore a new career or develop additional skills without committing to a full master's degree program. Students can apply their coursework towards an M.A. in Diplomacy and International Relations provided they meet admission requirements.
Scholarship Opportunities
Seton Hall University and the School of Diplomacy offer domestic and international graduate students a variety of assistantship, scholarship and fellowship opportunities. The School also serves as a host institution for prestigious external scholarships, including the Fulbright Scholarship, Pickering Fellowship and more.

Pirate Pride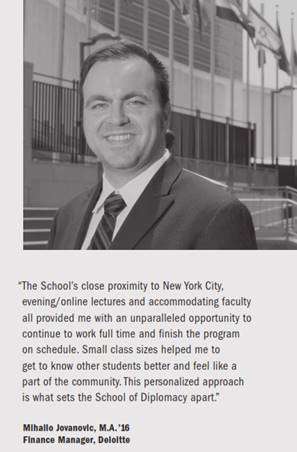 Graduates of Seton Hall University join a worldwide network that is over 90,000 members strong. Diplomacy alumni serve as diplomats and international civil servants; handle issues of commerce, security and intelligence; navigate the pharmaceutical, finance and communication industries; and respond when disaster strikes through global humanitarian organizations. True loyalists, our alumni make an ongoing contribution to the School, returning to campus to advise and mentor current students by participating in workshops and panels, and providing timely insights into the world of diplomacy and international affairs.