This morning for the last day of the Global Youth Economic Opportunities  Summit, I attended a great session on "Youth on the Move: Exploring Innovative & Inclusive Solutions for Education, Digital Identities and Economic Opportunities
The session featured
Nicole Goldin, Principal, NRG Advisory

Lori Kaplan President & CEO, Latin American Youth Center

Ashish Gadnis, Founder & Banqu

Mehemed Bougsea, Head of Social impact, Kiron, Open Higher Education and Co-Founder think.it
The session was moderated by Tim Nourse, President, Making Cents International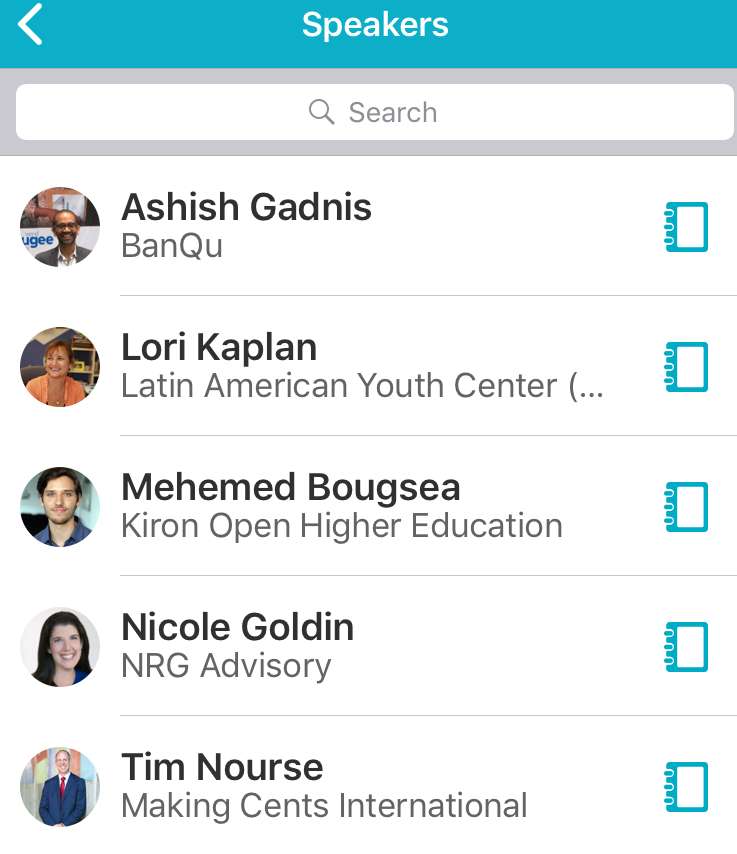 The panelists explored the changing nature of voluntary and involuntary migration in the world and in particular what is being done regarding youth migration (and what can be done) to help foster innovative paths to economic and social inclusion.
The panel covered both the US and the increasing number of young people (particularly from Central American) who are coming to the country(many unaccompanied) as well as global issues.
Migrants around the world often face significant challenges when migrating to a new country voluntarily such as language acquisition, cultural differences, transferring relevant academic and work experience into the host country, and finding economic opportunities to sustain oneself. Now imagion that the migration isn't voluntary but one is forcibly displaced (the world refugee population is at an all time high of over 60 million people and a very sizeable number are youth). When people are forced to flee their home for their own safety and seek refuge or asylum in a different location the challenges are much greater, and for unaccompanied youth this is often an even greater burden.
There is no easy path to generating sustainable economic opportunity for the many under or unemployed youth in the world (the estimates are to keep current levels of youth unemployment the world will need to generate 600 million jobs over the next decade). And for those migrating or forcibly displaced there is a desperate need for solutions at both the local and global level. Of course the ideal would be if no one was forced out of their home and if there were legal channels for migrants to ensure safety. But given the current state of the world, this future seems far, far away and perhaps unachieveable. One could just throw up one's hands and say what's the point? The good news is people are resilient and innovative, and there are many initiatives to try and address the challenge.
A key starting point is that to date, not enough has been known at a macro level about the work opportunities (both formal and informal) sector among youth migrants around the world. Recently the World Bank (Nicole was the lead author) published a report "Towards Employment Solutions for Youth on the Move"
It is clear youth migration is complex and they go for a variety of reasons ranging from seeking better economic opportunity, to basic safety and security. For youth who migrate outside of formal legal channels, there are huge risks to their safety and overall well-being. During the movement process, youth can be subject to exploitation, violence, financial threats, stress and much more. For youth who are in refugee camps, many may spend a significant portion of their lives in a camp which often means being outside of formal economic and educational opportunities.
There are a few key lessons and recommendations from the panel I want to highlight:
1) Nothing about them without them – Refugees and youth migrants are people and need to be central to programming and solutions to generating more more inclusive opportunities. Too often youth are seen as a threat (such as the youth bulge) or a population to do programs on, rather than as true partners who have agency and wisdom. The best programming puts youth at the center of decision making in inclusive processes.
2) Interventions need to be holistic – Many youth have have experienced some level of trauma or stress that can affect their ability to integrate or their economic futures. Programs shouldn't only be about providing economic opportunity but an important component is creating "safe spaces" where youth can be with one another in a supportive peer community. Many youth migrants are "overage and undergrade" meaning they haven't kept up with peers enrolled in formal schooling. There is also a need to help support educational, psychosocial, and economic programming.
3) Tech is a part of a solution but tech isn't the solution. There are many fascinating examples of tech being used to help youth migrants. Ashish, founder of BanQu is working to help provide a personal identification profile to enable members to have a digital record of their education, health, work experience and more. Through this migrants can then have portable record that they can use to help access economic opportunities, jobs and education. As he explained too many people see refugees as a number. When they interact with the aid system, they often are seen as beneficiaries who may receive aid, but not always as their complete selves with a work history, education levels, etc. Moreover if many refugees are stuck in camps for years, there is no system to record their volunteer and paid work experience history (prior to or during the camp). This is also important as they may interact with numerous agencies over the course of their time in the camp. Having records are essential as then they can have credentials to help them participate in the global or regional economy. But as Ashish commented:

We have to meet people where they are at and not just slam more technology at them.
4) Scaling is essential but hard – The challenges in this area are huge and there is no easy solution. Cookie-cutter approaches to programming don't work. Saying we will help train refugees to code doesn't magically generate economic opportunities if this is not integrated into an overall ecosystem or if the training doesn't provide a credential that will be recognized by potential employers. Kiron has had over 2,000 students enrolled in their opportunities where students can take a set of courses online over the course of a year and then potentially get credit and enroll in partner institutions. But one of the things they found is that online education to be successful often requires also peer support, local context to the marketplace and mentoring.
5) Let go of egos – Ashish talked about his experience in Bangladesh where five different organizations are registering Rohingya refugees. This is happening because organizations have their specific funding and the system hasn't found a way to have an integrated approach to work for all. As he stated
until we can let go of our egos and find creative ways to integrate people and not chop them into 17 different SDGs we will have problems.
The range of responses these impressive panelists are implementing as well as there ability to be critical and acknowledge the many challenges was impressive. It is clear we need innovators, but also collaborators from all sectors who work with youth to find solutions to this huge global challenge. Will we solve this crisis? Probably not, but can we do much better than the world is currently doing, and help prevent crises and when they do happen find a much more robust and inclusive human centered process, certainly yes.