On the second day of the Global Youth Economic Opportunities Summit, the opening focused on"From STEM to Steam:  Youth, Skllls and the Future of work." The panel had a wonderful array of speakers from discussing how to best work with and prepare young people for the changing global economy and in particular help youth develop digital skills and literacy.
The panelists included
Karen Pittman, Founder, President & CEO, The Forum for Youth Investment
Keith Boyd, Director of Structured Learning Programs, Microsoft
Sasha Norkin, Vice President, Marketing, edX
Nyasha Chibanda, Director of Operatonis, Broard Futures & Atlas Corps Fellow
the panel was moderated by
Jamie McAulifee, Senior Fellow, Aspen Forum Institute for Community Solutions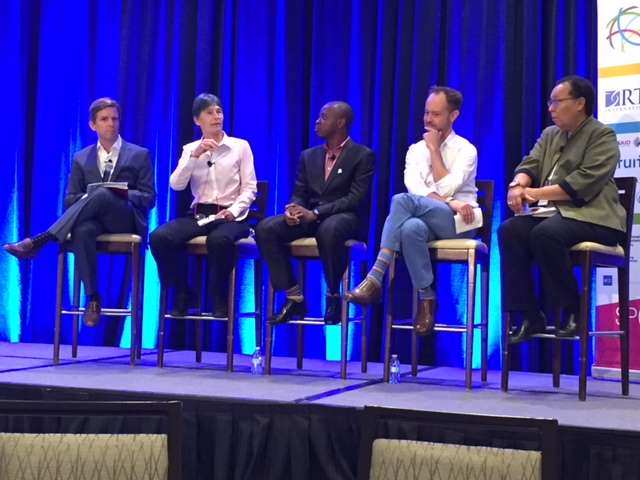 The world of work is radically changing and figuring out to best prepare young people with the skills & knowledge to succeed is critical. In framing the panel, Jamie stated an astonishing tend that is that 65% of today's schoolchildren will have jobs in the future that don't exist today. This is hard to fathom, but also fascinating. What will be the jobs of the future whether they are gig or full-time? And more importantly what are the skills needed and how to best ensure youth from around the world can be part of a  more inclusive economy. If not , the gap between digital haves and digital have nots will continue to increase and likely lead to a further increase in societal tensions.
In ensuring young people having a higher chance of landing a job over the past decade, there has been an increasing emphasis on the importance of soft and not only technical skills development. The soft skills include things such as communication, ability to work in teams, problem-solve, time management and dealing with challenges. One of the newer trends where the conversation is still at the early stages, is what are the critical digital skills needed for young people to thrive in a wide variety of career jobs?
Similar to the way emotional intelligence is nowseen as a critical part of professional and personal development, there is discussion over what are the digital skills needed. Should all young people have a"Digital intelligence" and what does this mean?
It was great to hear more from EDx,one of the pioneers in the mooc space. Sasha stated the organization has a bold vision, "it offers an opportunity to anyone anywhere to get the best education in the world for free." The biggest problem they face is that although millions have enrolled in their courses, there is a need to create greater awareness of their offerings.  They have also switched their focus over time from offering a smorgasbord of courses that didn't hve a coherent focus, to developing clear pathways and skill sets that students could develop to increase their employability. edX started off by offering a wide variety of courses where universities could choose what they wanted to offer. However, eventually they  realized it isn't only about access, but "what you can do and how you can use it in your lives". They put a lot of thought with their university partners to help young people advance their skills and dreams. One of their new initiatives, is that they now have a global freshman program where students can take an entire year of classes for their first year for free. They can also choose to pay and get credit to then apply to a select institutions.   Edx also now offers a whole range of micro master programs (1/4 of an MA program) for free, or if one pays one can get a certificate. It is even possible to get certified in the soft skills such , communication, teamwork, etc. for less than $300 across several courses.
A few key lessons and challenges from the panel:
1) Often support beyond offering the course is needed -If you're very motivated using online courses and self-paced one can do very well. But if not, life gets in the way of being successful. Often people some support  to move successfully through teh process. Having mentors or peer support or a way to help people go through the process is important.
2) Finding structured paths is key – Having a wide variety of courses is interesting, but what really works in terms of completion and also for employers is having a coherent package of courses. This also helps students stay motivated to complete MOOCs or other offerings.
3) Skin in the game helps – Free is good, but when there is some investment (even if it only a small fee for a certificate) this leads to higher completion rates. Or if an employer or educational institution helps push or incentivize people to go through  this can be very helpful.  More work is needed to understand what are the best ways to push people through the programs.
4)  Young people need training – To succeed in obtaining skills and employment, youth often need training in the soft skills, how to thrive in the workplace, critical thinking, communication and much more. But this isn't sufficient as they need hard skills. Once they have the soft skills employers will often help with training. Often youth in developing countries also need to support how to get be competent in digital literacy. Access doesn't translate to digital skills. Just having access to tech, Internet, and related tech doesn't necessarily mean that people have the key digital skills. Just using a phone or an email or sms message, doesn't mean they are proficient in computer skills and other items to be successful in the job market.
5)There are many left out of the digital economy – Almost 4 billion people still don't have access to the Internet. Thus there is a huge issue that a great deal of training and programming at least on digital skills and careers isn't reaching many people. Does this mean that a future there will be a growing but small number of digital elites around the world and many digital have nots? There are some great examples however that are working to address this challenge. For example I'm on the advisory board of a wonderful organization Inzone, which has done pioneering work on increasing access to higher education for long-term displaced refugee populations. Many refugees are located in places where they don't have much or any access to the Internet. Inzone has done some wonderful things including setting up MOOCs in a box where they have setup learning centers in refugee camps where students can get access (and peer guidance) on a wide range of courses. They are growing their work but there is so much to do.
6)We need to hard and soft skills – This is a challenge how can training institutions and employers best ensure people succeed? As Keith stated a developer who cannot communicate isn't of much use. There is also a need for greater collaboration across all sectors to come up with the best ways to prepare young people with the soft and technical skills (and certifications) to have great careers.

7)Young people need to be engaged – Young people need to be willing and be prepared to advance their skills. Karen talked about the learning pit, is that whenever someone learns a new (hard) skillthat often there is a point of perceived failure where one thinks I cannot do this, or I will fail. Helping people work through this stage is key and this requires that they have a sense of agency, peer support, champions and more.
8)Education needs to change – Secondary school, higher ed and others need to better prepare students with the core skills such making learning as social and emotional at the core. Many employers in the US (and around the world) are finding that youth coming out of high school or higher ed indicate they find students are often not prepared. They need to be able to work in teams and have the soft skills. It is important not just to teach the skills, but practice them. They also need to be able to identify, recognize their value, and be better prepared with a sense of agency.
9)We need to create engaging ways to connect people to job market – hiring processes and employers also need to find ways to change recruiting and better engage young people.
The panel ended with the question is what are the foundational digital skills that will best help the most number of young people be competitive in the increasingly digital and automated economy? What are your thoughts?