This blog is part of PCDNetwork's career in change 2017 series. Click here for information on all the activities, webinars, blogs and ways to participate
What if architecture could react as a living organism? What if it would be able to adjust and fit into evolving needs and become shaped by interaction with its inhabitants? Which disciplines contribute to innovation within architecture and design? Those are the questions that we ask in our programs at Laka. In the reality of constant change and constantly developing needs, it seems that architecture can no longer be "designed" for current and future needs. Maybe it should rather be initiated in a way, which will allow adjusting and responding correctly to the environment and the needs of inhabitants.
Based on the assumption that architecture should react in response to external circumstances just like all living matter does, in June 2015 we launched the first edition of the Laka Competition "Architecture that Reacts". The question that we ask at Laka is whether architecture can respond to needs in a dynamic way, if it can be shaped by our intentions and actions. During last two years, since launching of the 1st edition of the Laka Competition, we have had an extremely valuable opportunity to observe interesting ways of thinking about the role of architecture through participants from more than 40 countries and selected by the international panel of renowned experts in the fields of architecture and design. Given PCDN's Career Series June topic "Emerging Trends in Social Innovation" is June's PCDN's Career Series we would like to highlight entries from our competition that illustrate the potential of architecture to and interact with communities.

The DorzeHouse 2.0 (Laka Competition 2015, honorable mention)
Authors (Italy): Architecture and Vision / Arturo Vittori
Author's description: "The DorzeHouse 2.0 is a modern interpretation of the African vernacular architecture with the goal to provide with a better house for the villagers of the rural community. The DorzeHouse maintains the ancient local tradition of working with bamboo and other natural indigenous materials but offers higher standards of hygiene, safety and comfort. Its aim is also to prevent traditional skills and construction techniques from dying out. The cost of the DorzeHouse is below 1000 $. The House is constructed from flat packed elements; it is lightweight to transport (300 kg) and fast to assemble (8 hours by 10 people). Thanks to a modular and prefabricated construction there is no need of scaffolding, all the operation can be easily done from the ground level. Once the site is cleared and leveled the modules can be assembled. A series of horizontal rings are then interlocked between the spiral pieces from the bottom to the top. Some layers of leaves and natural materials are placed outside the framework of the hut on the first module for better insulation."
More information: https://lakareacts.com/winners/the-dorzehouse-2-0/
Socially Active Ecosystems (Laka Competition 2016, honorable mention)
Authors (Rwanda): ASA Studio – Active Social Architecture:Alice Tasca, Francesco Stassi, Zeno Riondato, Jaime Velasco Perez, Christian Karagire
Authors' description: "Rwanda is considered an example of accelerated modernization. Key element of this fast process is how to combine the physical planning strategy with the vision of society. Envisioning "a long-term bright future of Rwanda" the Government launched the ECD Policy in 2010 "to combat ignorance and illiteracy and to provide human resources useful for the socio-economic development through the education system." Children, who are well nurtured and cared for in their earliest years, are more likely to achieve their full potential as adults. Currently just over 12% of children between 3 and 6 have access to learning services: to meet the MDG targets of 100% enrollment by 2017, public education facilities should be implemented in rural areas (…). The Centers react to their surroundings as means to address the interface between the natural and socioeconomic environment at community level. They promote cross-pedagogical activities and serve as community space for social activities that give the ownership of the space, making it socially sustainable and environmentally efficient. The design strategies foster children and their community to increase family-family and family-community cohesion (…)"
More information: https://lakareacts.com/winners/socially-active-ecosystems/
Oystower (Laka Competition 2015, honorable mention)
Authors (USA): Christopher James, Jori Erdman, Giovanni Coakley
Authors' description: "The OYSTOWER project provides a network of self-sustaining structures for monitoring the coastal zone for indicators of change and threat. Programmatically the project incorporates everything needed to sustain human occupation and to collect coastal data and monitor systems. At the core, a shipping container has been modified and turned on end to house potable water storage, a rechargeable battery, food prep and sanitary needs (…) The ability to monitor and report data about changing conditions in the natural world will provide communities and businesses in the high-risk coastal zones with the ability to make informed decisions about where and when to evacuate or move to safer ground. It will also allow aqua-businesses to make decisions and do the work needed to provide the world with food, navigation and lifestyle benefits. Through a building approach that integrates biologically enhanced features and techniques, the authors provided for a self-sufficient, resilient, adaptive and reactive building prototype that could be deployed in the ubiquitous oyster zones around the world."
More information: https://lakareacts.com/winners/oystower/
Snapping Facade (Laka Competition 2016, 1st prize)
Authors (USA): Jin Young Song, Jongmin Shim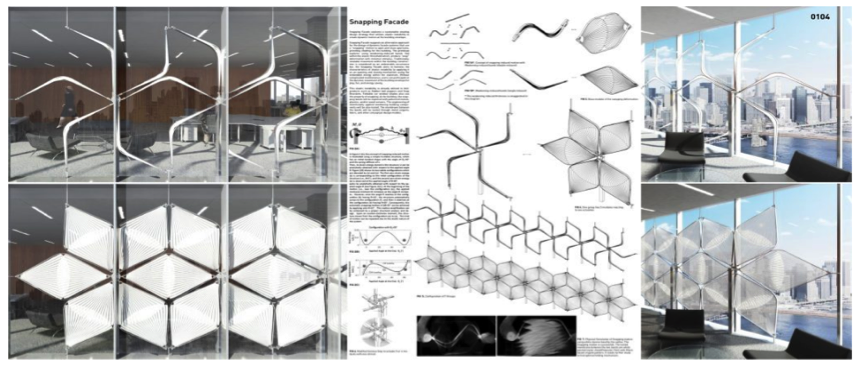 Authors' description: "Snapping Facade suggests an alternative approach for the design of dynamic facade systems that use a "snapping-induced motion" to open and close apertures, providing shading for the building. The prototype explores using weakening-induced bands tied within the elastic threshold that, produce "snap" deformation with minimal stimulus. Traditionally, unstable movement within the building construction is considered as an undesirable occurrence but, the Snapping Facade aims to harness the characteristics of elastic instability by applying it as an opening and closing mechanism using the embedded energy within the materials. Without complicated maintenance, users can participate in the dynamic movement of the building envelope for play, fun, and energy saving."
More information: https://lakareacts.com/winners/1st-prize-snapping-facade/
Green Umbrella (Laka Competition 2016, honorable mention)
Authors (Hong Kong): Dr. Hee Sun (Sunny) Choi, Jorge Sainz de Aja Curbelo, Tony Chiu Cheuk Lun, Eason Yeung Kit
Authors' description: "There are approximately 200,000 female domestic workers from other countries in Hong Kong. Most of them are employed as helpers with a residence provided by the employer, creating a situation whereby the working and living space are merged into one single space for six days a week. Government regulations dictate they must be given twelve consecutive hours of free time each Sunday, leading this massive workforce to the open spaces of Hong Kong. The Green Umbrella considers the environmental consequences of this mass movement, supporting the manner in which domestic helpers assimilate the public space surrounding them to suit their own culture and form of gathering, involving dance, games, food, naps and political rallies. Along and below elevated walkways and highways recycled cardboard is used to create temporary territories amongst the pedestrian flow and adjacent to busy roads. The green umbrella is a digitally sensing device that can provide shelter and enclosure, together with a screen showing the level of air pollution measured with built-in CO2 sensors. This will allow users to identify the less polluted areas in the city where they can rest, whilst highlighting the issue as part of the social conscience of the city (…)"
More information: https://lakareacts.com/winners/green-umbrella/
Flinch (Laka Competition 2016, honorable mention)
Author (USA): Adrienne Strohm
Author's description: "In the fall of 2013, Typhoon Haiyan wreaked devastation in the central Philippines. Over 6,000 people perished because of this deadly hurricane. In a place where 2 out 5 citizens live on less than $2 a day, Filipinos are in dire need of an inexpensive, easy-to-build but durable home that can withstand excessive winds. This structure is to be used in the Philippines where hurricanes and other strong winds destroy [the many] shanties and poor quality housing. The shelter gets its name from living creatures' reaction to incoming pain. Similar to the way people and animals flinch, the shelter also prepares itself to incoming catastrophe by tensing and shifting to better equip itself for impact. This structure can be created using local, inexpensive materials such as bamboo and other plant materials to create a resilient shelter that many poor in the Philippines do not have but desperately need."
More information: https://lakareacts.com/winners/flinch/
S.O.S. Hydrotecture (Laka Competition 2016, Editors' Choice)
Author (Spain): Alessio Salvatore Verdolino
Author's description: "From the year 2000 water started to be recognized as a fragile resource and the importance to keep it clean and pure was recognized by many. For these reasons, in the 21st century, water will determine new land-use for growing populations, regional political alliances, and alternative energy production. Desalinization is one important aspect of the future of water; it already is a critical social concern, particularly in flood vulnerable and arid affected regions (…). Redesigning daily life at a local level becomes the way to respond to current environmental realities through our knowledge in environmental and biological design, as well as in in parametric and digital fabrication tools. The project is a landscape greenhouse-canopy characterized by two performative pattern logics. The first is a three-dimensional meshwork of capillaries within which cold seawater (from a local deep source) is circulated in loop. The second is a series of vascular flow intake, which direct warm seawater (surface layer) over the capillaries. Contaminated water drips into specific areas, called vacuoles."
More information: https://lakareacts.com/winners/s-o-s-hydrotecture/
Anti-Seismic Structure with AI (Laka Competition 2016, Editors' Choice)
Authors (Puerto Rico, Mexico): ZeroDamage LLC: Wilfredo Méndez Vázquez, Esmeralda Niño-Pérez
Author's description: "Responsive architecture based on intelligent behavior is not only the kind of buildings that people would expect in the future, but also the kind of built environment that they already need. There are many natural events that constantly challenge the strength and resilience of structures worldwide. Despite the fact that several engineering solutions exist to eliminate the risk of major disasters, some natural events still can cause several damage to critical infrastructure and numerous casualties. In fact, over the last ten years natural events have caused, on average, $62 billion in damage and over 550 casualties annually. Major earthquakes are responsible for most of the damage and most of the casualties due to the collapses of buildings. Structural behavior during seismic events has become not only a technical issue of material performance, but a speculative endeavor of creating resilient structures to unforeseen events (…). Goal of the project is the engineering of all the architectural, structural and mechanical parameters for these types of robotic structures with artificially-intelligent behavior so they can behave like intelligent beings when facing an environmental threat. The proposed technology aims to challenge the performative resilience paradigm within the building industry which is yet highly vulnerable to these well-known dynamics from earthquakes (…)"
More information: https://lakareacts.com/winners/anti-seismic-structure-ai/
For more examples of "Architecture that Reacts", please visit our website: https://lakareacts.com/
Architecture and technology become important tools in the process of social regeneration. Every day new and innovative solutions emerge and provide us with new tools that can have a positive social impact on the global society, while maintaining the principles of sustainable development, respecting the environment and future generations.
We have a great opportunity to be partners with organizations such as PCDNetwork to learn from their knowledge and experience and try to implement it in activities of Laka. PCDN, influences and develops the global social change community in a very positive and valuable way. Not only do PCDN members stay informed about countless opportunities but also can meet professionals from different disciplines, which can explicitly widen the horizons and initiate valuable projects.
Damian Przybyła
Laka is a non-profit organization and a worldwide network focused on social impact via design and architecture. We share the vision of architecture that helps to develop sustainable and safe societies through a responsible and collaborative design. Through a comprehensive strategy and with the support of our Partners, we develop projects and programs that underline the crucial role of architecture and technology in the process of social change. https://lakareacts.com/
Damian Przybyła (architect, founder and managing director at Laka)