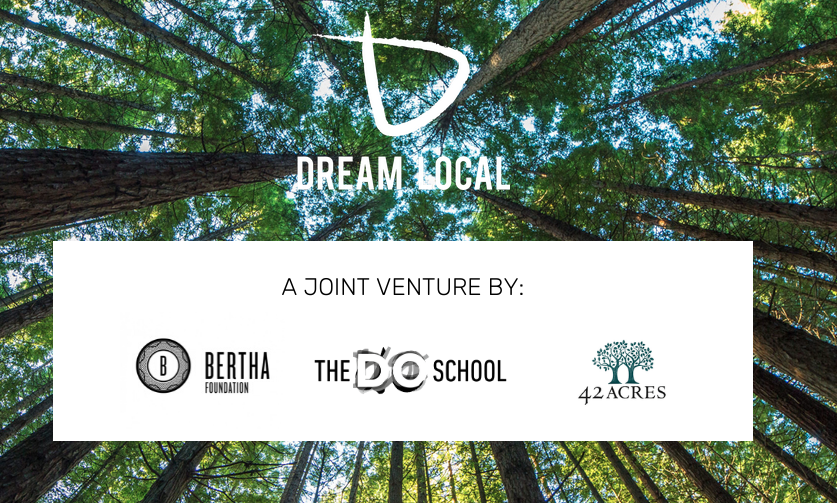 Connect, pitch and scale. The Future of Food Summit is a 3-day digital event dedicated to reimagining local food systems. Bringing together entrepreneurs, investors and thought leaders who are pushing the boundaries of local food systems, the Future of Food Summit aims to identify the next leaders who are innovating local food systems by empowering them through coaching, networking and investment.
We'll be accepting 20 startups or small enterprises who are transforming local food systems. Selected participants will partake in a 3-day, high-intensity program, which includes personal growth and business innovation sessions, peer-to-peer coaching, insights from industry experts, investor pitching, and mentorship.
Dream Local – celebrating local living –  is a joint venture between The Bertha Foundation, 42 Acres, and The Do School. The Future of Food Summit marks the launch of this joint venture and offers you an exciting opportunity to be a part of this community from the beginning, and grow alongside.
Food security and its environmental impact is one of the most pressing global issues. The relevance of local food supply has been exacerbated through COVID-19. With more than 10.8% of the world's population hungry, this is the first time in recent history that the number of hungry people is growing instead of declining.Local food systems and short supply chains directly tackle this challenge: they are more climate-friendly, less energy-consuming, build strong connections between rural and urban communities, enhance local economic development and help create more vibrant and resilient communities.
Accelerating local food disruptors around the globe, Dream Local aims to galvanize innovators who are reimagining local food systems.
WHO SHOULD APPLY?
We are looking for startups and small enterprises with innovative, scalable solutions in local food systems. From production to consumption, we will accept 20 participants from around the globe with ventures that address any area across the entire supply chain. Applicants could for example be active in:
• Food production, farming and agriculture
• Distribution and logistics
• Marketing
• Purchase and retail
• Preparation and consumption
• Waste recovery
• Circular economy
PARTICIPANT CRITERIA
This call for applications is open to start-ups and small enterprises from around the world that are
• Revenue generating
• More than 1 year in the market
• Providing a new, scalable solution within the local food supply chain
Participation is especially interesting for ventures that are ready to scale, actively look to build their networks and are ready to pitch to impact investors. The selection process will be based on business model viability, innovation of service / product, scalability potential and sustainability / impact.