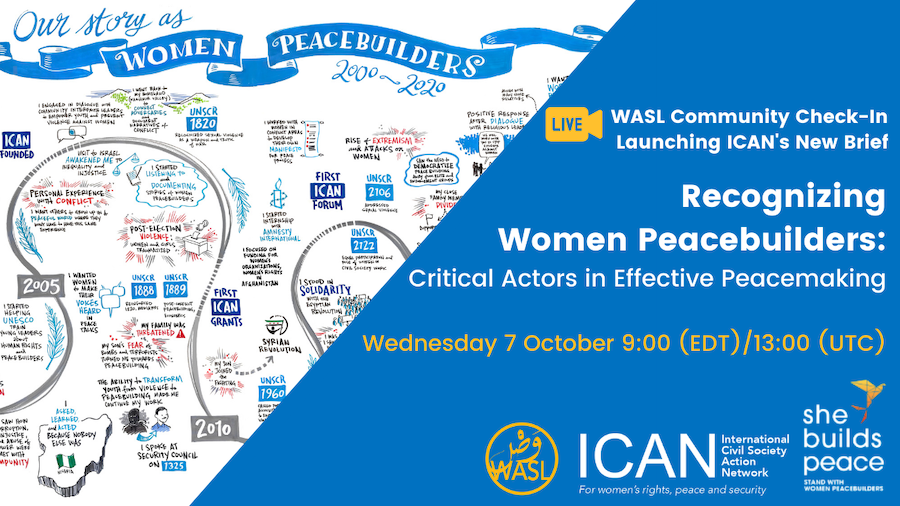 This is a featured post on PCDN.
On Tuesday, October 6th, 2020, ICAN will be releasing a new brief, titled Recognizing Women Peacebuilders: Critical Actors in Effective Peacemaking.
We're thrilled to bring you this timely analysis that explores the invaluable contributions of women peacebuilders from around the world.
On Wednesday, October 7th, 2020 at 9:00 (EDT) / 13:00 (UTC), we will be discussing the findings of our brief and hearing directly from women peacebuilders on the ground. This virtual launch event will provide first-time, public access to our WASL community check-in call, where we speak with local women on the frontlines of today's conflicts.
Speakers will include:  
• Sanam Naraghi Anderlini (MBE) – CEO and Founder, ICAN
• Rosa Emilia Salamanca – Project Advisor for Political Management and Alliances, Corporación de Investigación y Acción Social y Económica (CIASE), Colombia
• Jennifer S. Freeman – CEO, PeaceGeeks
• Marita Sørheim-Rensvik – Norwegian Special Envoy for Women, Peace and Security
• Members of WASL