Season 5 of The Social Change Career Podcast
Episode 8 : Humanitarian / Conflict Resolution work in the field. Caterina Becorpi's experiences with the International Committee of the Red Cross in Venezuela, Haiti and Iraq.
In this episode you will learn how Caterina was able to gain field experience in Haiti, Venezuela to Iraq working in the fields of humanitarian relief and conflict management managing strategic and operation relationships as Movement Coordinator for the International Committee of the Red Cross.   
Episode 7 : Vikas Gora: From a family that worked inspired on Gandhi's legacy to becoming a global development and disaster management professional.
His grandfather worked closely with Mahatma Gandhi, so from an earlier age Vikas was committed to social change and community development.  In this episode he talks about his education, his experience as Rotary Peace Fellow and what are the key trends and skills in the International Development, Disaster Management fields.
Episode 6: "Dress like you give a damn". Fashion and Sustainability with Garik Himebaugh
If you think that fashion is a shallow thing and it has nothing to do you or the state of the world, think again. NOT thinking about the quality of your clothes could be problematic, as well as what you buy and where you buy.  So let's talk fashion & sustainability with Garik Himebaugh. 
Episode 5: Fellowships. What are they & how to get one with fellowship expert Vicki Johnson
Don't miss listening to Vicki as you make plans to apply and get a fellowship for next year.  We will be discussing how fellowships propel your career; help you with a career transition; make you more hirable and what's the scope on fellowships for international students.
Episode 4: Don't listen to your parent's advice. From financier to social good champion with Devin Thorpe.
How can one tackle poverty, disease and climate change with a finance career and become a social good champion?   Devin Thorpe who left the world of financing (in this case a whole career in the world of finance (as an investment banker, CFO, treasurer and mortgage broker) and turned it around to become an author, educator and speaker and ultimately a social good champion.
Episode 3: Lets talk unemployment. What happens when you do everything right and still can't land a job ?
It's time we get real and talk about unemployment in the social change sector. You do everything right, you send the applications, you write the letters, you apply to a multitude of places. This was the case of Matthew Johnson. Master's educated, published author, activist, educator Matt couldn't land a job in social change.
Episode 2: Born to succeed. How being female, afro-descendent from the poorest region in Colombia hasn't stopped Yineth Renteria to achieve her dreams.
Lets talk about privilege. How do you succeed in life when you are born female, black and belong to one of the poorest most acutely affected areas by the armed conflict in Colombia?
Yineth Renteria's life and career will tell you how. She is not an ordinary changemaker. With only 22 years, she is a professional accountant and recipient of many national and international awards -like a full scholarship to complete her undergrad and a Martin Luther King Jr. Fellowship.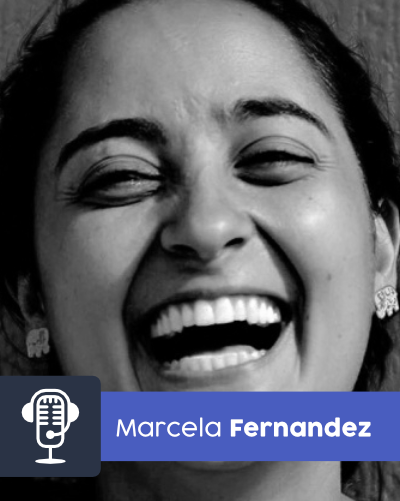 Episode 1:
How to hack your education and change the world as a digital nomad with Marcela Fernández.
Marcela Fernández and Fito (her companion dog who also joined in) not only dropped out of college and fought family and societal pressures to find what made sense to her.
And what worked for her may not work for you but still, its worth a listen how she has so far founded 5 companies, speaks several languages, has travelled to 67 countries (with Fito).