This is a sponsored blog post on PCDN
Written by Travis Burke
As I shook the General's hand, it was hard to look past the skull and crossbones emblazoned on his uniform. As a Rotary Peace Fellow this emblem was somewhat anathema to the overarching focus of my study and career. Yet, after some small talk, we found we had both been in Helmand Province, Afghanistan, at the same time, working in a roundabout way on the same mission. I came to the Rotary Peace Fellowship through Rotary district 22 in Seattle, Washington, where I had settled after years abroad in Somalia, Kenya, Nicaragua, and—of course—Afghanistan. From 2011 to 2013, I was working with USAID as we began the transition, returning districts and provinces to Afghan control and attempting to build sustainable institutions that would weather the potential storm. I had seen local organizations build peace in the Horn of Africa, and I looked to Rotary's 3-month Peace Fellowship program in Thailand to help me better understand what I may have missed in Helmand, and what I could have done better.
Yet, throughout the entire fellowship, I kept meeting amazing characters who gave me new perspectives on my own work. These connections, the networking, the general collection of aid workers, journalists, peacekeepers, and sundry—when I first applied to Rotary's Peace Fellowship program I had no idea how wide my circle would become. It was not only my fellow Fellows, but the lecturers, staff, and folks we met in the field. A group of driven individuals about whom I could proudly say, "I knew them back when…" Obviously, any fellowship will differ, but the 3-month Rotary Peace Fellowship in Thailand draws a certain type of character in its orbit. I can't guarantee you'll meet these same people, but that you will recognize the cast.
The Academic
Our class was blessed with a number of professors and PhDs. While not everyone gets excited thinking about the political science theories behind the Yugoslav Wars, it was amazing to sit side-by-side with these learned men and women and simply listen. The hackneyed saying, "If you can't do, teach" fell apart when these academics would describe their work. These weren't simply professors who lecture and retire to Political Science cocktail parties—they were writing books, working on complex issues in the Middle East, connecting their universities internationally, and generally getting their hands dirty. Their questions helped guide discussions, but they were also equally willing to debate and cede points and opinions. For many peaceworkers, academics seems dry, but sharing a pint with professors from Kenya, Croatia, China, and Catalonia breaks down this stereotype.
The Journalist
We were blessed with two journalists in our class—one from a major news organization and another from a more local paper. Journalists are amazing creatures. They are always digging, looking for the story, trying to hear all sides. This, more than anything, presented our class with the most interesting debates and questions. It's rare in the peace world that we see coherent arguments and stories printed on our work, but these dedicated journalists were insistent on building a better understanding of why we were in Afghanistan, how media should cover "fake news," and what were the best methods to approach disasters. The platform that journalists have is often much larger than that of the average peace worker, and their words reach more ears and eyes than any Oxfam press release. Journalists, too, have an insatiable drive to find opportunities, and will end up pushing you to do more than you thought possible, and connecting you to the resources you need.
The Military
It's difficult to truly consider a conflict without the point of view of the combatants. Over the course of the fellowship, we met many military officers, whether as lecturers—including the Nepalese general responsible for DDR after the civil war—or on the field studies. Whatever your point of view of the military, it is important to me to understand all sides. Military officers often have more firepower, both literal and metaphorical, at their disposal than any other stakeholder group, and its necessary as peacemakers to be able to engage with them, especially in a learning environment like the Peace Fellowship. Having worked closely with the Marines over my two years in Afghanistan, I was comfortable in the strict world of military life, but many of my colleagues had new experiences, and begin to broaden their thinking of just who is underneath all that camouflage.
The Local
I think about my friend, Karissa, here—a farmer from the coast of Kenya. A man who lives and breathes for his community, he started a cooperative farm and school that works with the parentless children of his district. When large development agencies talk about local solutions, it is Karissa I think of. For all those development workers who have seen countless projects and programs fail, who have seen peace talks crumble and ceasefires shatter, who have begun to harden, Karissa is the answer. The real local making the world just that much better. On our field study, we got down in the rich earth of Northern Thailand, dirt crumbling between our fingers as we discussed irrigation and soil quality. I wouldn't trade that time for any job in D.C.
The UN Guy or Gal
If you've worked in development and conflict long enough, you know the UN. You know the white Land Rovers and heavily fortified compounds. You have learned to recognize the effective from the not so effective. During our Fellowship, we had several lecturers from the UN. And, to my and many Fellows' amazement, they were the effective type. A discussion on international law remains one of my favorite lectures, especially when faced with such a dry topic. This also extends to the major capitals' government camp—these were people trying to make a difference, but on a larger scale. It was good to meet and debate with these "suits" and see that many who wore a tie and loafers didn't just spit talking points. As an added bonus, these men and women return to their respective camps having listened to you, and may just have their eyes opened a little. Don't count out any opportunity to connect, you never know just when it may end up on the BBC or CNN.
The Police Officer
The Rotary Fellowship has a close relationship with the Victorian police, and the policeman they sent brought an entirely unique point of view to a class of mainly international peace workers. This, as an American, was especially poignant in a time of Black Lives Matter. His thoughtful views on community policing, the challenges to law enforcement, and willingness to listen crumbled many stereotypes. In my conflict work, most sticking points revolve around not armies and major battles, but local policing. A chance to discuss these issues with those officers who have worn holes in their boots from the beat is priceless.
The "I've Never Met Someone From…"
What do you know about the Solomon Islands? Or Aceh? Or Leeds, England? The Rotary Peace Fellowship's strength lies in its approach to a global cohort. This isn't just another graduate program with representatives of a few nations who are more alike than not, but a true mixing of thoughts, cultures, backgrounds, and geographies. I made friends from all over the world, connections I can count on if I ever find myself in Rangoon, Kigali, or Chang Mai. This mix at times encountered some rough edges, but overall it made for a better experience. And it certainly helps that I've been invited to lounge on the white sand beaches in Bougainville.
So there you are, the seven types of people you will meet on a Rotary Peace Fellowship. I can't promise you'll shake hands with a general or dig in the dirt with a farmer or drink rice wine in the jungle or publish your conflict analysis, but I can promise you an amazing experience that will leave you engaged and excited about making a difference and building peace around the world. And if you're really lucky, a chance to dip your toes into the South Pacific, drinking from a coconut.
The Rotary Foundation is now accepting applications for the fully-funded Rotary Peace Fellowship. Applications due 31 May. Learn more: https://www.rotary.org/myrotary/en/get-involved/exchange-ideas/peace-fellowships
About the author: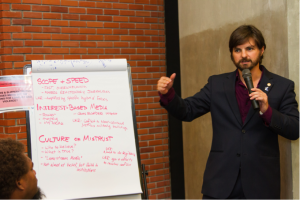 Travis Burke is an international development expert focused on youth, economics, and fragile states. Moreover, he is a writer published at Euromaidan Press, Pedestal Magazine, Collateral Journal, the Military Experience and the Arts, Entropy Magazine, and his own blog, "The Big Wild." He welcomes inquiries.