This is a featured post on PCDN
(photo courtesy of IREX)
Have you ever wondered what makes a fellowship different from a scholarship? And what exactly is a social impact fellowship?
Over the past couple decades, as the social impact sector has grown so have the number of social impact fellowships available for leaders globally. These fellowships provide exciting opportunities for professionals to increase leadership capacity, build networks, and drive positive change.
Social impact fellowships come in all shapes and sizes. They may last several weeks or several years, but they aim to be transformational experiences for individuals who have been identified to do something exceptional in their field of work and ultimately to enact change in their communities.
In 2015, ProInspire published a report compiled from interviews with 46 fellowship organizations such as Ashoka, IDEO, Atlas Corps, Echoing Green, among others. From this research emerged the first definition of social impact fellowships [i]:
As someone working with Rotary Peace Fellowship programs, a leading fellowship for global peace and development leaders, we were thrilled to see interest from other fellowship implementers to explore ways in which we might come together, discuss our challenges, share best practices, and find opportunities to collaborate and demonstrate the impact our many programs are having within the larger social change community. 
With the rapid evolution of the sector, there was a real need to convene leaders and managers of impact fellowship programs globally. And that is how the Impact Fellowship Summit was born.
Last week, IREX hosted the third Impact Fellowship Summit in Washington DC, convening over 125 fellowship implementers from over 80 organizations for 2 days of workshops, panels, conversations, and network building opportunities. The participants represented a wide range of organizations including small and large nonprofits, international NGOs, corporations, universities, and foundations.
The key themes that emerged from the impact fellowship sector over the past several years, and the focus of this convention, included:
Creating and maintaining networks: An integral part of any fellowship program is creating systems and networks for change. Alumni networks are key to ensuring that investments in these leaders are nurtured and extend beyond the individual. During my two days at the Summit, I heard several attendees say that their fellowships really begin once the fellow has completed the program and is applying their new skills to their work and community. The Rotary Peace Fellowship, for example, trains peace and development leaders with academic theory as well as practical peacebuilding skills. However, when surveyed about the value of the fellowship, the importance of the alumni network rises to the top. Not only do our fellows connect with their cohort but they have the opportunity to reach out to over 1300 program alumni working in more than 135 countries to share professional experiences. The Summit provided opportunities to discuss approaches and tools to foster communities and networks among fellows during and after fellowship programs.
Centering diversity, equity, and inclusion into fellowship programs: How do we build programs that strengthen leaders to promote equity and inclusivity? Diversity, equity, and inclusion (DEI) should be centered in the design of fellowship programs. We need to ask ourselves and our institutions if we are integrating a DEI framework to how we market our programs, recruit candidates, select fellows, and in our program design and curriculum development. How can we better accommodate differing abilities, diverse learning styles, and backgrounds? And what can we do to attract new leaders who may not have benefited from other fellowship opportunities. One session that stood out was the "In the Dark" community building activity led by Sara Minkara, Founder and CEO, of Empowerment through Integration (ETI) and required participants to wear blindfolds for the hour long activity. Sara says that "in order to drive positive change in communities, leaders need to be intentional at creating inclusive spaces that allow each person to bring their truest selves forward."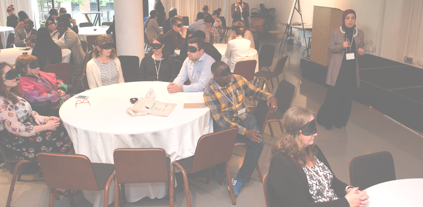 Measuring impact to improve fellowships: Design, monitoring and evaluation (DM&E) of fellowship programs is critical to knowing how to adapt programs to best serve our fellows – but what are the best methods and technologies available?  Not only do we seek to evaluate the personal transformation of a fellowship program, but how do we accurately measure the impact the fellowship is having in the fellow's organization and in their greater community? This is critical since the goal of many of the programs is to help foster systems level change to best meet the key challenges of the 21st During the summit we discussed various quantitative and qualitative methods to better represent impact over time. In one session, leaders from IREX and Kansas State University presented on two evaluation methodologies to measure the most significant changes their programs are having as well as mapping social networks.
The Impact Fellowship Summit is a community that believes in the power of social impact fellowships – not only in the transformation these fellowships can have in the lives of the fellows but the potential they have to create real impact in communities. Through this annual conference, the sector will continue to share knowledge, tools, and best practices for measuring this impact and sharing this impact with the world.
Resources:
ProFellow is a great resource for finding professional and academic fellowships
Rotary is recruiting applicants for the 2020 Rotary Peace Fellowship. If you are a peace and development leader looking to take your career to the next level,

apply today!
Written by Sarah Cunningham, Sr. Marketing and Recruitment Strategist for the Rotary Peace Fellowship at The Rotary Foundation
[i] https://proinspire.org/wp-content/uploads/2015/05/Social-Impact-Fellowships-Building-Talent-in-the-Social-Impact-Sector.pdf