This is a sponsored post on PCDN
Thinking of Graduate School?
The School of Conflict Management, Peacebuilding and Development offers the following programs that lead to a Master's Degree in Conflict Management, a Ph.D. in International Conflict Management, or trainings for working professionals.
Why Our School?
We research and train in issues from national security studies and strategic nonviolence to civil mediation.

We embrace perspectives from social sciences and humanities.

We practice conflict management informed by theory and research.

We integrate our work into businesses and civil society locally, nationally, and globally.
Masters in Conflict Management
Masters in Conflict Management
Brochure link: https://issuu.com/mscm/docs/mscm_brochure_web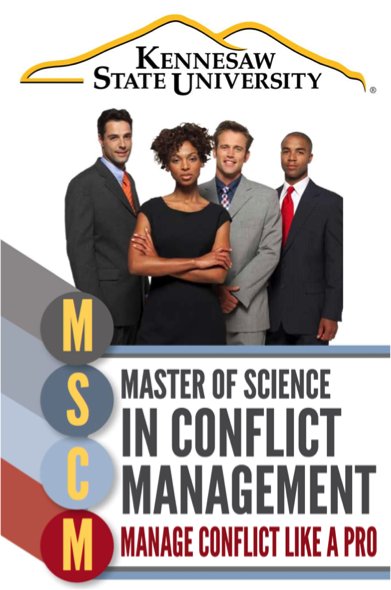 The Master of Science in Conflict Management teaches students tools that can help prevent conflict and effectively manage it once it arises. Our program operates as a cohort, admitting a limited number of students as a group each fall semester. These students take classes together from start to finish to create a unique and enriching learning environment. In 16 months, learn negotiation, conflict theory, mediation skills, peacebuilding, cross-cultural, and international conflict resolution.
Catering to Professionals Schedules
Full-time, 16 month program

One course at a time, 9 credits each semester

Alternating class weekends

Friday from 3:30 pm – 7:30pm

Saturday from 8:30 am – 3:30pm
MBS + MS in Conflict Management Dual Graduate Degree
Two Degrees. One-Of-A-Kind Program. Unlimited Opportunities
The MS in Conflict Management/Masters in Business Administration dual degree prepares students for competitive leadership and managerial positions in careers requiring extensive understanding and interaction with conflict management and business acumen. The students' desire for this program comes from the extensive interaction between the two sectors in areas such as global project management, negotiations, and contracting. The programs are completed in 53 credit hours rather than the 72 hours that would be necessary if they degrees were pursued separately.
PhD in International Conflict Management
The PhD in International Conflict Management in the School of Conflict Management, Peacebuilding and Development at Kennesaw State University (KSU) has students from around the world, creating a dynamic, yet intimate, educational environment. Doctoral students, after completing core courses, are given the flexibility to focus their studies in their desired areas. International Conflict Management is a field that currently has few opportunities for advanced education. KSU is a leading institution with one of the few independent schools of conflict and peacebuilding in the world.
Key global competencies:
Intercultural and International Dynamics

Development Theory and Practice

Peacebuilding

Conflict Management theory
View our online brochure
Regular link: https://issuu.com/mscm/docs/school_brochure_web_thin_57f9cff0d5c947
Contact Us:
Phone: (470) 578-6127
Email: [email protected]
https://www.linkedin.com/school/27105002/
365 Cobb Avenue
MS 243, MD 1602
Kennesaw, GA 30144