10 Careers in International Affairs: Profiles from New School Alumni
This is a sponsored post on PCDN
Career: International Security
Name: Alexandra Bell
Degree: MA International Affairs 2006
Title: Senior Policy Director at Center for Arms Control and Non-Proliferation, US Department of State, Washington D.C.
Bell's area of focus include arms control and non-proliferation, Euro-Atlantic security, diplomacy, and Congressional affairs. Previously, Bell served as a Senior Advisor in the Office of the Under Secretary of State for Arms Control and International Security. She has been quoted or published in the Washington Post, the Los Angeles Times, the Guardian, Politico, Vox, and more.
Career: Investing
Name: Tulsi Byrne
Degree: MA International Affairs 2015
Title: Responsible Investment Team at Nuveen, New York
After several years at the UN Global Compact where she led the team on gender empowerment, Byrne transitioned to the private sector and joined Nuveen, an asset management company. She combines her previous experience in financial services and corporate social responsibility as she helps the firm integrate environmental, social, and governance issues into investment decisions.
Career: Refugee Assistance
Name: Muhammed Korany
Degree: MA International Affairs 2016
Title: Protection Assistant, Danish Refugee Council, Larissa, Greece
Korany's work aims to provide a safe environment for those seeking refuge from war and violence in Syria and elsewhere. He is involved in emergency relief, protection monitoring, data collection, and providing information to refugees and migrants regarding their rights and the services available to them. He also provides translation from Arabic, and leads youth activities.
Career: United Nations
Name: Leyla Sharafi
Degree: MA International Affairs 2004
Title: Gender and Youth Specialist, UNFPA, New York
Sharafi's work is centered on global initiatives that support women and girls' empowerment, specifically in the context of sexual and reproductive health, as well as the engagement of men and boys for the promotion of gender equality. Prior to joining UNFPA, she worked at the United Nations Development Fund for Women (UN Women).
Career: Media
Name: Lorena Ruiz
Degree: MA International Affairs 2011
Title: Senior Producer, NBC Universal, New York
Ruiz, from Brazil, enrolled in the International Affairs Program with a concentration in Media and Culture. Today, she is in charge of the control room where she produces for the MSNBC program, "Hardball with Chris Matthews". Ruiz supervises the editorial vision of each show and also writes and produces segments for broadcast.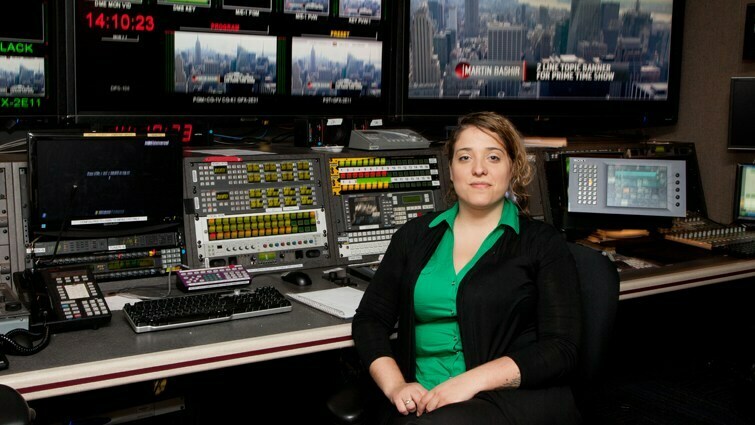 Career: Humanitarian Aid
Name: Sarah Gilbert
Degree: MS International Affairs 2011
Title: Head of Programs for Catholic Relief Services in Turkey
Based in Spain, Gilbert implements programs that deliver assistance in immediate lifesaving support as well as paving the way for transitional development initiatives to meet long-term needs of vulnerable families inside Syria. She also provides leadership, management support, coaching and guidance to staff working on emergency response programs for refugees in Northern Syria and Turkey.
Career: Environmental Policy
Name: Nicholas Barber
Degree: MA International Affairs 2009
Title: Policy Analyst, International Affairs Branch at Environment & Climate Change, Government of Canada
Barber works on Canada's ambitious agenda on climate change, oceans, and clean energy. He is the team leader on sustainable finance, working with civil society and the private sector to help drive action on the transition to a low carbon global economy. Barber's work includes climate-related financial disclosure and innovative financing for coastal resilience.
Career: Government
Name: Fatema Hayat
Degree: MS International Affairs 2015
Title: Minister of Sports, Government of Kuwait, Kuwait
As the first Women Sports Minister in Kuwait, Hayat organized Kuwait's first women's soccer tournament. She develops the women national teams in different age groups, creates and establishes leagues, trains and recruits women referees and coaches. Hayat works closely with the International Federation of Association Football (FIFA) and hopes to launch Kuwait's first national women's soccer team.
Career: Academia
Name: Brittany Meche
Degree: MA International Affairs 2014
Title: Ph.D. Candidate in Geography, University of California, Berkeley, CA
Meche's research interests were shaped by the courses she took at The New School such as the politics of expertise, non-Western approaches to the world, and South African history. She is now a Ph.D. Candidate in Geography at the University of California, Berkeley researching geographies of empire. Her study focuses on the Sahelian region of West Africa and is informed by critical security studies, postcolonial theory, literature on race and U.S. liberalism.
Career: Urban Development
Name: Skye Dobson
Degree: MA International Affairs 2011
Title: Director, Slum Dwellers International, Cape Town, South Africa
Dobson, originally from Australia, works with Slum Dwellers International (SDI), a network that brings together slum dweller social movements in more than 30 countries. She specializes in M&E for social movements and the use of community-gathered data for inclusive and collaborative urban planning. Dobson has applied these concepts to the field of climate change adaptation and resilience planning and has published a number of articles on these topics.